Top 10 keto products on Amazon UK (According to you!)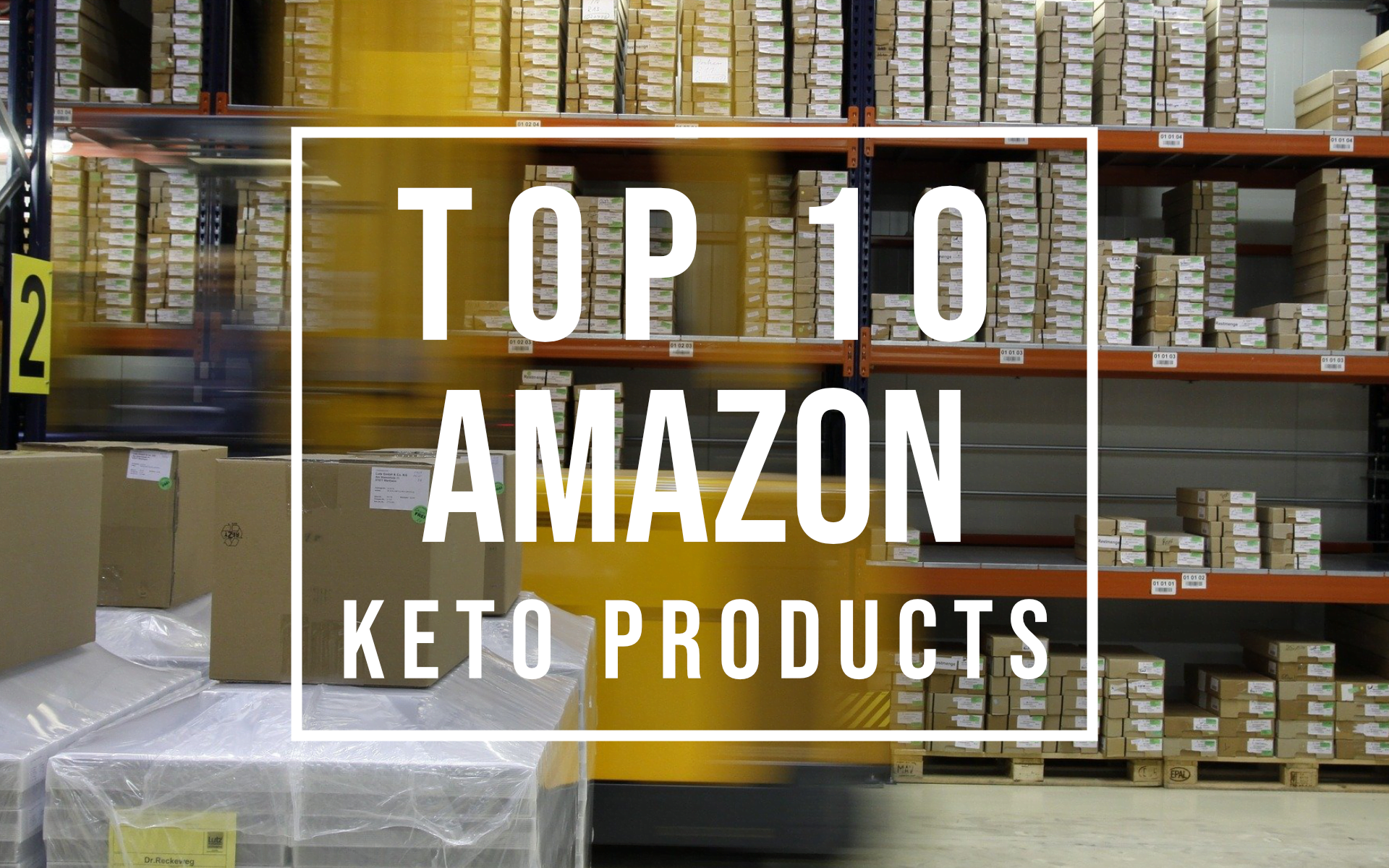 Almost everyone has bought something from Amazon, it's just so convenient and you can pretty much find anything you want in just a few clicks! Perfect for us on keto, as it can be difficult to find some of the rarer keto-friendly products in stores. To help, we've compiled a list of some of the most popular keto products on Amazon (UK), purchased by you, our readers!
How do we know what was purchased?
Every time you click on one of our Amazon links a cookie is used to track what you order on Amazon and we earn a commission on some purchases (read more here). In addition, we're able to see what was purchased, so we're going to use that data to see what the most purchased keto products have been since August 2020.
Note: Purchase data is completely anonymised by Amazon and we have no idea who purchased what. Just the product name, price, and quantity are provided.
Top 10 Amazon UK Keto Products
Now let's check out the 10 most popular keto Amazon products are according to you, our readers! The list below is in order of most popular first.
Disclaimer – This post contains affiliate links, meaning, I recommend products or services I've used or know well and may receive a commission if you purchase them too (at no additional cost to you).
1 – Arrowroot Powder
You guys really love some arrowroot powder, no doubt to make keto Yorkshire puddings! You can find our recipe here.
2 – Low Carb Syrups
Sugar-free and full of flavour! Low carb syrups are great in desserts and coffees. Check out our syrup guide here and coffee syrup recommendations.
For foods
For drinks
3 – MCT Oil
Nothing like a good butter coffee in the morning to get you going and keep you full until lunch. If you haven't yet tried a butter coffee, why not? Check out our simple guide here.
4 – Chewing Gum
It's easy to snack between meals and that can often lead to consuming an extra few hundred calories a day, which can soon add up! Chewing gum can help keep your mouth busy and has the added benefit of keeping your breath fresh! Read more about keto chewing gum here.
5 – Keto Recipe Books
It can be hard to find suitable keto meals to make, especially when you first start out. Luckily, there are some great recipe books that can offer so much inspiration! For more ideas, check out our recommendations.
6 – Low Carb Tortillas
Fancy a quick snack but need a suitable receptacle to hold all that keto goodness? Well, low carb wraps fit the bill nicely!
7 – Low Carb Loaf (Bread)
Bread and keto? That's usually a no go but fortunately, there are low carb bread alternatives! You could make it yourself but sometimes it's just easier to buy it ready-made.
8 – Erythritol (Sweetener)
One of my favourite low carb keto-friendly sweeteners, great for cooking and baking. If you're not sure what sweeteners are keto safe then check out our sweetener guide.
9 – Psyllium Husks
Whether you want to make keto porridge or just be more regular 🙂 Psyllium husks will help you! If you're going to be cooking with them, make sure you get the ones that won't turn your food purple!
10 – Popped Cheese Snacks
Probably one of my favourite grab and go keto snacks. I've always loved crips and cheese, so these satisfy both of those cravings! By far the most popular is Cheesies, although Serious Pig get's an honourable mention.