Best priced UK low carb keto wraps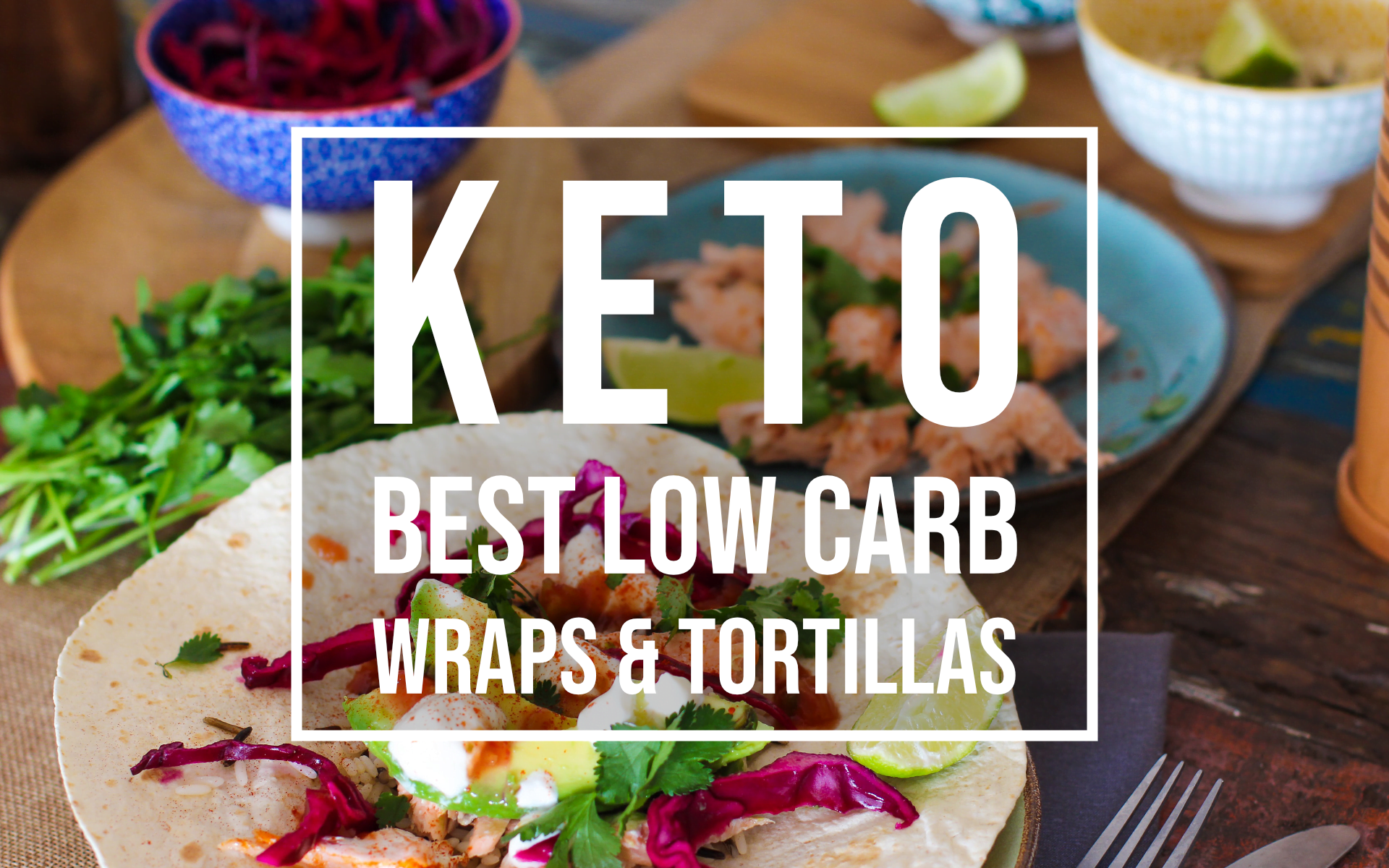 For years I would often have a wrap for lunch instead of a sandwich. They are easy to prepare and even easier to eat. Like me, you might miss them. So I've gone out and sampled the best low carb keto wraps in the UK (IMHO).
If you'd prefer to try your hand at making keto wraps at home, then here a few recipes you could try:
Home-made keto wraps
I've found most wrap recipes either lacking in consistency (mine are never very circular) or taste. I usually go the route of buying them. However, the price can vary greatly between vendors so I've compiled a quick list of available wraps in the UK.
Best keto wraps you can buy
There are a few low carb keto-friendly wraps on sell though they are mainly only available online and the price can vary quite considerably! Let's take a look at some of the best.
1. Carbzone Tortillas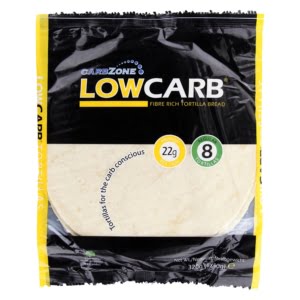 These are hands-down the best-selling low card tortillas in Europe (and I can see why). They come in three variants (see below) and most closely resemble what I would call a keto wrap.
Taste and texture
They have a consistency and taste of a normal tortilla but the texture is a bit "gummy". Sometimes in the pack, the tortillas can stick together and have to be carefully pried apart or else they may tear. The surface has a bit of a shine which contributes to that gummy texture.
Ingredients: Water, wheat gluten, wheat fibre, wheat flour, modified wheat starch, certified vegetable palm fat, emulsifier (mono- and diglycerides of fatty acids), salt, acidifiers (malic acid, citric acid), gasifiers (sodium bicarbonate, sodium pyrophosphate), preservatives (potassium sorbate), stabilizer (guar gum), inactive yeast.
Low carb tortilla large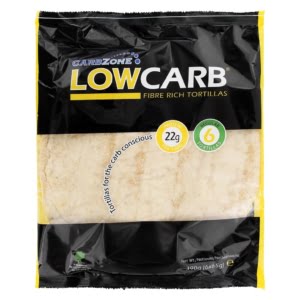 One pack consists of 6 wraps. Each tortilla weighs 65g and has 7g of carbs.
Low carb tortilla small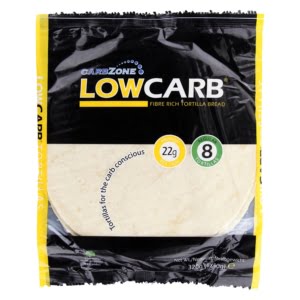 One pack consists of 8 wraps. Each tortilla weighs 40g and has 4g of carbs.
Low carb tomato tortilla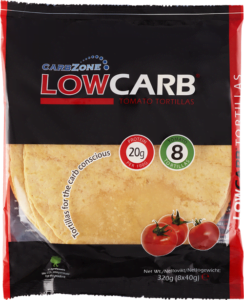 One pack consists of 8 wraps. Each tortilla weighs 40g and has 4g of carbs.
Result: Recommended best keto wrap
Where can I buy them?
They can be found on Amazon, Ocado and direct from CarbZone's own website.
Amazon

CarbZone Low Carb Tortillas – Small 320g (Pack of 2)
CarbZone Low Carb Tortilla Large 6 x 65 g, High Protein (Pack of 2)
CarbZone Low Carb Tortilla Tomato 320 g – (Pack of 2)
The price can vary depending on availability but they are usually sold in packs of two.
Ocado
Ocado has a wide range of Carbzone products available for purchase. Each tortilla pack is priced at £3.99.
View all Carbzone products on Ocado
CarbZone
They have their own website and are usually priced at around £3.99 per pack. However, they often sale out quickly so stock up when you can! Free shipping on order over £40 so it's worth doing a big order.
View all available tortillas on Carbzone
Discount – Use code ADDTOKETO at checkout to save 10% off your entire order!
Note on sales – From time to time, Carbzone heavily reduces stock that is nearing its best before date. The price is heavily discounted so keep an eye out! See the for sale page here for current offers.
2. Mama Lupes tortilla wraps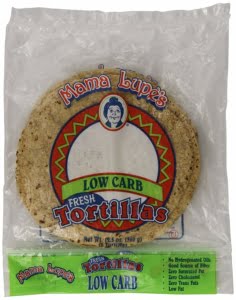 These wraps come all the way from the US! As such the nutritional information counts dietary fibre as carbs so you need to subtract that from the carb count. That means that one 36g tortilla has 3g of carbs. One pack contains 10 tortillas.
Taste and texture
They have similar ingredients (see below) but they don't have the same gummy texture and I've not had them stick together like Carbzone ones. That is great but they can he hard to get hold of in the UK.
Ingredients: Whole wheat flour, Wheat gluten, Corn starch, Oat fibre, Soy flour, Soy oil, Isolated soy protein, Sesame flour, Water, Vegetable shortening (soybean oil, cottonseed oil, vegetable mono and diglycerides, citric acid), Calcium sulphate, Sodium acid pyrophosphate, Dextrose, Salt, Sodium bicarbonate, Sodium Proplonate, Calcium proplonate, Potassium sorbate, Sucralose, Cellulose gum, Guar Gum, Xanthan gum, Fumaric acid, Dough Conditioner (sodium metabisulphite)
Result: OK, if you can find them
Where can I buy them?
As these are made in the US they need to be imported which increases the cost. LowCarb Megastore import them and they can also be found on Amazon.
Amazon
Mama Lupes Low Carb Tortilla Wraps
LowCarb Megastore
Mama Lupes Tortilla Wraps 360g
One pack costs £4.75 (plus shipping, free if you spend £75 or more). I pick these up when I'm doing a bulk order. They also sometimes stock the CarbZone ones though are usually out of stock.
3. The Low Carb & Keto Bakery Keto Wraps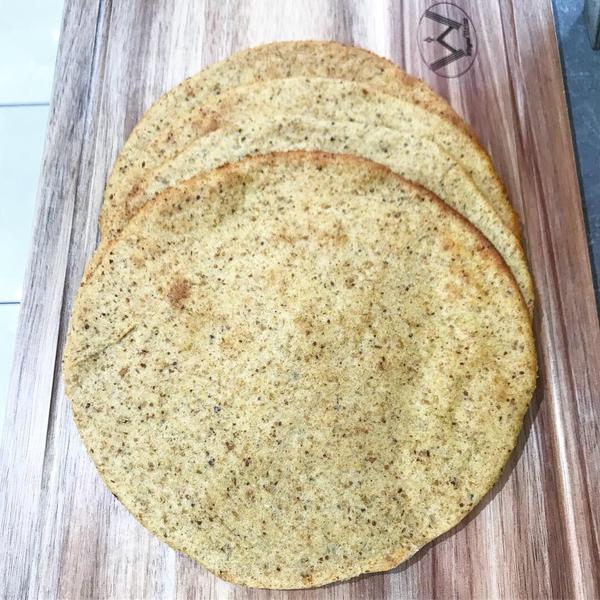 These are a bit different has their main ingredient is flaxseed. They are quite a bit bigger than the other wraps at 100g each and only contain 2g of carbs per keto wrap. However, because they come from a bakery expect the price to be a bit higher.
Taste and texture
They taste great and can even act as pizza bases! They are slightly thicker than their mass-produced rivals so they keep their contents from spilling out. As these are flaxseed based they do have different taste but a pleasant one to be sure.
Ingredients: Water, Golden Linseed, Wheat Gluten, Oat Bran, Resistant Wheat Starch, Inulin, Oat Fibre, Coconut Oil, Cider Vinegar, Guar Gum, Vitamin C, Sea Salt, Yeast
Result: No longer recommended
Where can I buy them?
As the name suggests they are only available from The Low Carb & Keto Bakery. However, recently many people have been waiting months for their orders which little to no communication. As a result of this, I can't currently recommend them. Check out their trust pilot reviews for more information. I'll leave the links and information here so that you can make an informed decision.
The Low Carb & Keto Bakery
Keto Wraps 8 inch Low Carb Protein Wraps / Pizza bases
Each pack of two keto wraps costs £3.79 (plus shipping). Not an unreasonable price for freshly hand baked wraps. However, you can usually find a discount code that will bring the cost down. Sign up for their newsletter or follow them on Facebook as they do announce flash sales sometimes.
Disclaimer – This post contains affiliate links, meaning, I recommend products or services I've used or know well and may receive a commission if you purchase them too (at no additional cost to you).