Keto Yorkshire Pudding Recipe – Easy low carb mix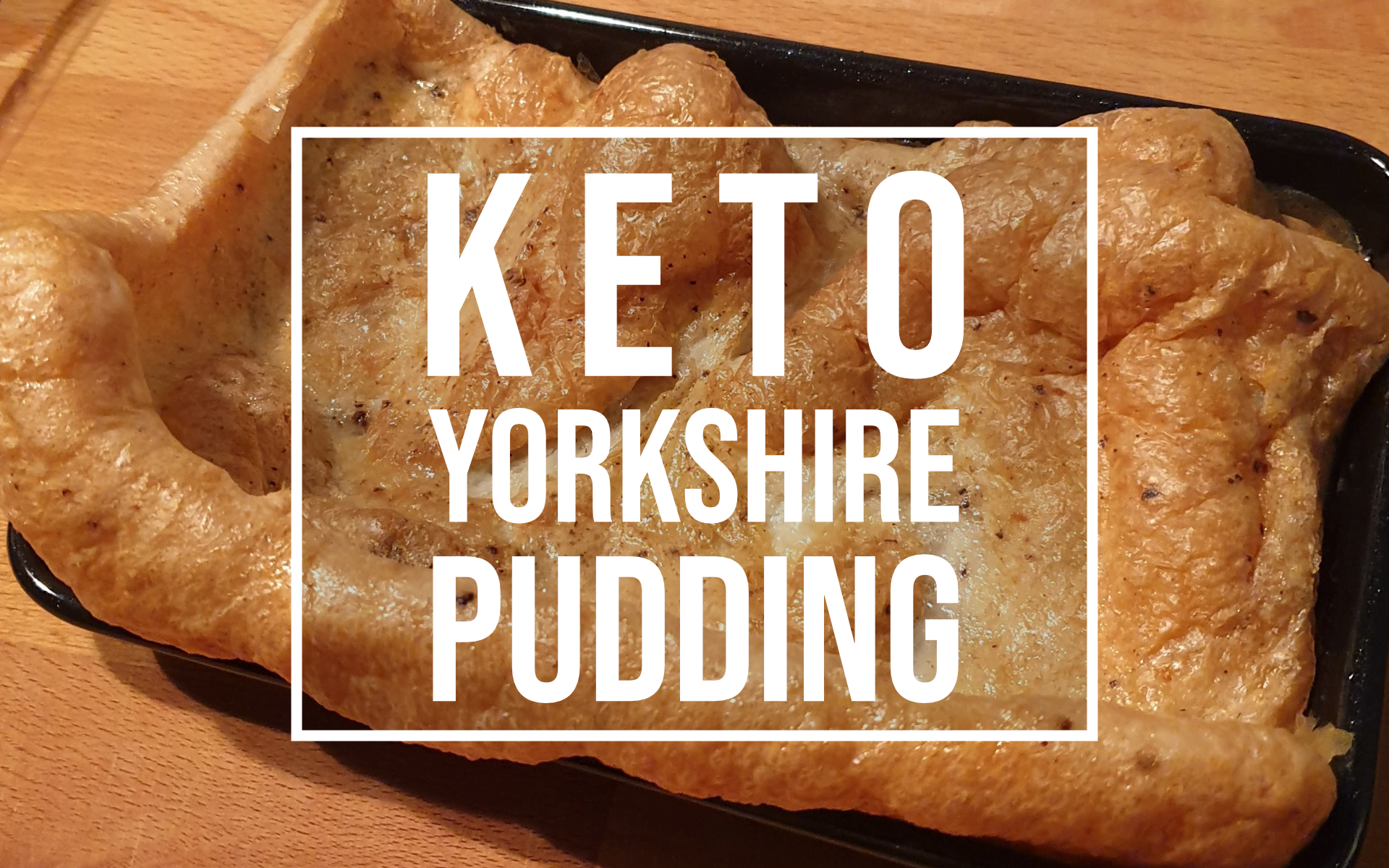 Yorkshire puddings are just flour, eggs and milk, right? Well, yes, but that doesn't mean we can't make them keto-friendly! Check out our keto Yorkshire pudding recipe that contains only 3.4g of carbs per serving.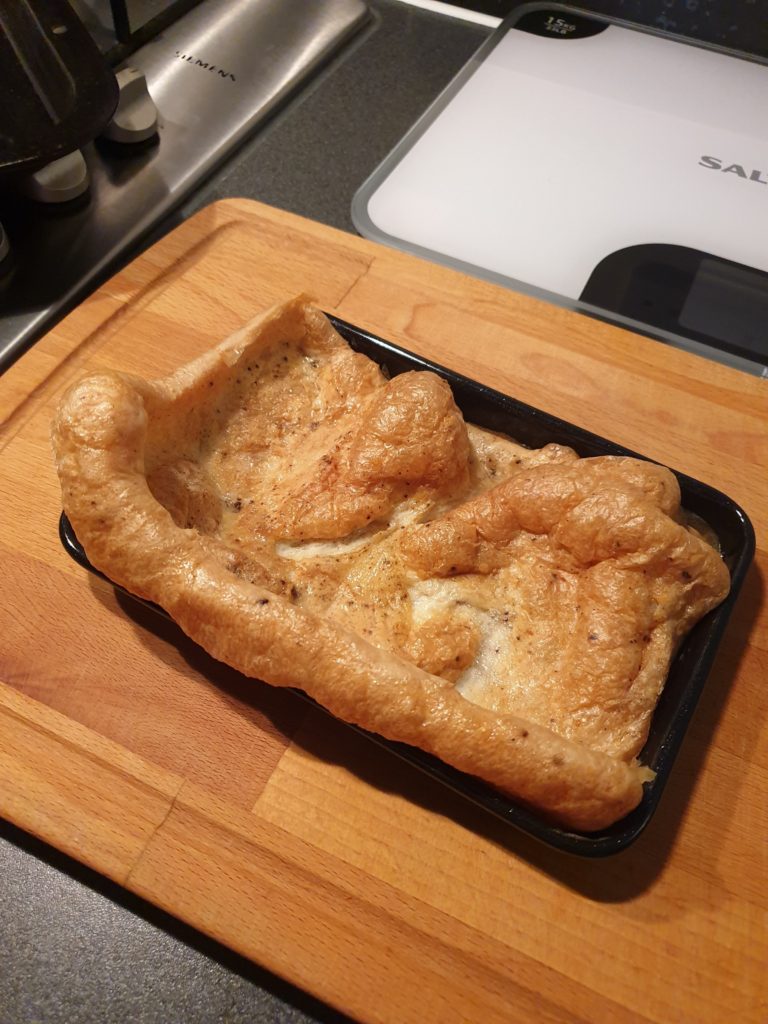 All you will need are some easy to obtain ingredients, a whisk, measuring jug, and a pudding/muffin tray or tin.
What's in a traditional Yorkshire Pudding?
Yorkshire puddings really aren't difficult to make and they are a classic part of a traditional roast dinner. Amazingly, they only require a few easy to find ingredients:
Flour (Wheat, Plain)
Salt
Egg(s)
Milk (Whole)
Oil (Vegetable)
In order to make this keto, we'll need to substitute the flour and milk for keto-friendly low carb alternatives. Luckily, there are some great options that are not too difficult (or expensive) to buy!
Ingredients for a keto Yorkshire pudding
In total, there are only 4 main ingredients plus the usual seasonings (salt + black pepper). Let's take a closer look at them and how they work in the recipe.
Arrowroot Powder
Instead of the traditional wheat flour, this keto Yorkshire pudding recipe uses arrowroot powder as the thickening agent. This powder is made by extracting the starches from the tubers of the arrowroot plant.
Fact: twice the thickening power of wheat flour
Uses: to thicken sauces (also gluten-free)
Also known as: arrowroot flour, arrowroot starch
Carbs: ~88g per 100g
Taste: odourless and neutral flavour
You can buy arrowroot powder in the baking aisle of your local supermarket. It is commonly sold in little 8g sachets packs of 6.
Available at: Asda, Sainsbury's, Tesco and most other supermarkets.
However, if you want to save money then buying in bulk is always the best option. I tend to pick up a 500g pouch and that lasts for a very long time!
Egg
A batter mix wouldn't be complete without an egg! It helps to bind the mix and add volume to the Yorkshire pudding. If you want to mix it up, try adding an extra egg white, which could help make your puds extra tall!
Oil / Dripping
In order to give the Yorkshire puddings the best chance to rise and expand, the fat needs to be really hot. That means you need an oil or fat with a high smoking point, so olive oil isn't a great choice.
Ideally, either beef dripping or goose fat are a great choice, as they will also add flavour to the dish. However, if you don't have that to hand then any high smoking point oil will do.
Whatever fat you choose, you need to ensure that the oil is really hot (like screaming / smoking hot) by putting it on the oven for 5-10 minutes before you pour the batter in.
Check out our list of great keto-friendly oils for the best options.
Milk or cream?
Depending on your preference, you can use any keto-friendly milk or double cream. Personally, I prefer to use unsweetened almond milk, as I find that the keto Yorkshire puddings raise better and are more like traditional ones.
On the other hand, double cream seems to expand more and produces a wider, fluffier Yorkshire pudding. Not to mention, that it increases the calorie count (and carb count though it's negligible).
Why not try making it both ways and then decide on your favourite?
Equipment and tools needed
You don't need much to prepare and cook this recipe. However, if you want to make the best possible Yorkshire puddings then here are what we recommend to use:
Measuring jug
Once the oil is very hot, you'll want to pour the batter in as quickly (and safely) as possible. Using a measuring jug will allow you to do it with precision and saves using a ladle or spoon.
Sale
Cup tin / Small tray
If you're looking to make small individual Yorkshire puddings, then you'll need a non-stick cup tin. They come in plenty of different sizes and can be picked up relatively cheaply. For this recipe, I recommend a six-cup tin tray.
Sale
For big puddings, such as a single giant one. I use a small single portion non-stick baking tray (as seen in the pictures). It really doesn't need to big, about 20x10cm will be sufficient.
The Lakeland Single Portion Tray is perfect, as it has integrated handles which makes handling the hot oil a lot easier (and safer).
Keto Yorkshire Pudding Recipe – Easy low carb batter
Course: Dinners, Sides
Cuisine: British
Difficulty: Easy
Super simple low carb keto-friendly Yorkshire puddings that are under 3.5g of carbs per serving! Why not serve them as part of a keto roast dinner?
Directions
Preheat oven to 180c (fan)
In a large mixing bowl, whisk the egg and salt until frothy
Add arrowroot, almond milk (or cream), and black pepper and continue to whisk to avoid lumps
Optional – Cover and leave batter to rest for about 30 minutes
Place about half a teaspoon of oil (or fat) in the bottom of each tin and place in the oven to heat up
Once the oil is sizzling, whisk the batter again and pour it into the tray(s) to about half height. Be careful not to overfill, as they will rise a lot!
Place the tray in the oven and cook for about 30-35 minutes or until edges are brown and crispy
Notes
Nutrition – stated nutrition values are from beef dripping and unsweetened almond milk. If you're using double cream and/or other oils, adjust as needed.
Serving – based on two servings. Personally, I like to double up this recipe!
Fat or oil – most high smoking point fats are fine for coating the trays. Though, beef dripping or goose fat will impart some lovely flavour to the puddings!
Nutrition Facts
2 servings per container
Serving Size150g
---
Calories101
Amount Per Serving% Daily Value *
Total Fat 3.39g

6

%
Amount Per Serving% Daily Value *
Total Carbohydrate 3.39g

2

%
Protein 3.79g

8

%
* The % Daily Value tells you how much a nutrient in a serving of food contributes to a daily diet. 2,000 calories a day is used for general nutrition advice.
Additional recipe ideas
How do you like your Yorkshire puddings? One giant or many little ones?
Whichever way you prefer, they make a great base (or side) to many dishes. In addition, they can help to soothe that bready carb craving that many keto folks may experience from time to time.
Here are some recipe ideas that you can try:
Toad in the hole – pop some sausages in the poured batter and have a delicious complete meal (though maybe add some veg).
Gravy – we couldn't mention Yorkshire puddings and not include gravy! So, check out our keto beef gravy recipe.