July 2020 – Month in review and roundup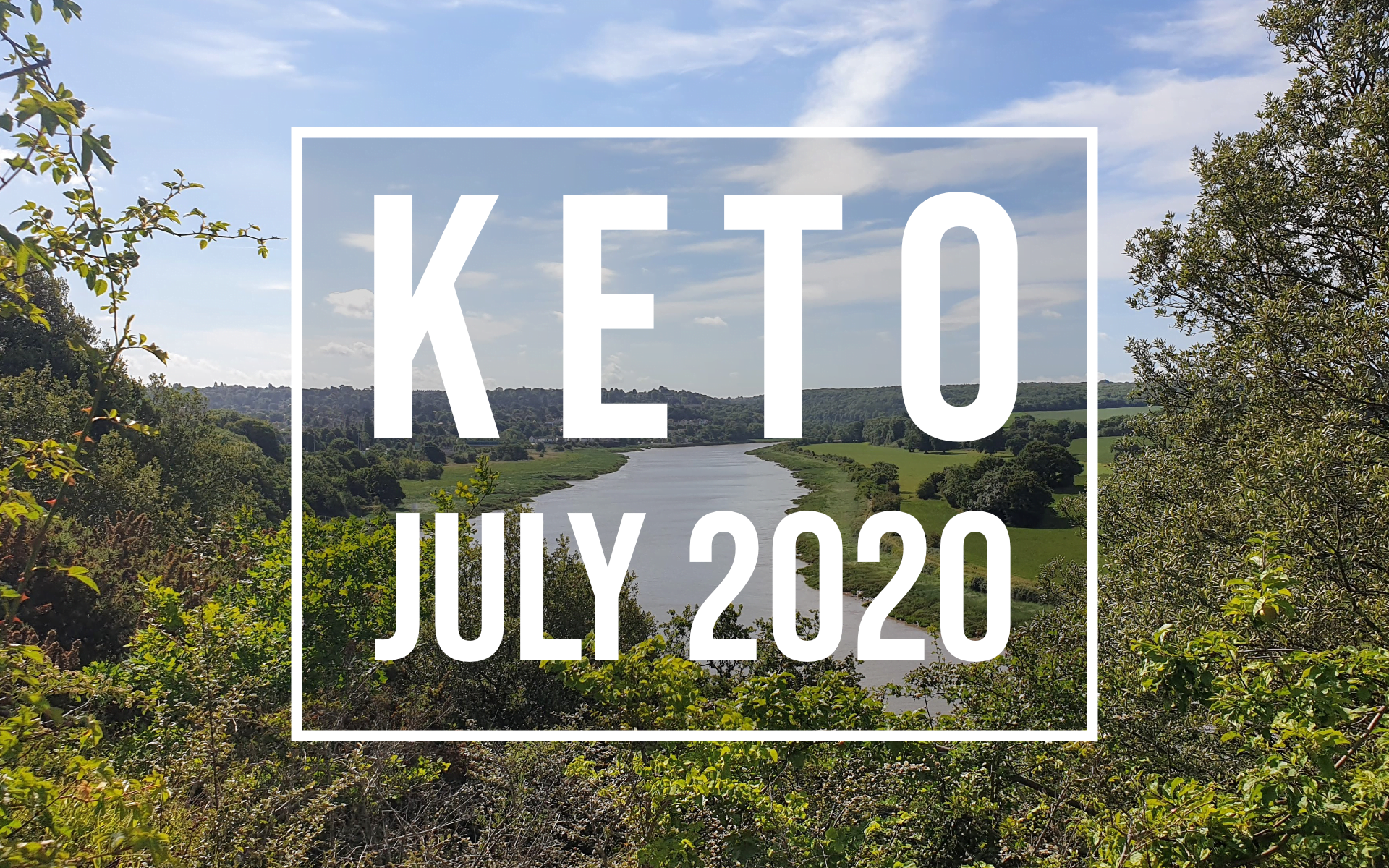 Another month is gone and it's time for a roundup of what's gone on in the world of keto and life in July 2020.
It may be summer but it's been a weird one, some hot days down here in the south-west but also a lot of rain. I'm not complaining, being stuck inside is much easier when it's cold!
New articles
Summary of the articles released on addtoketo.co.uk in July 2020.
Keto Ice Lollies – Low carb ice pop products & ideas
Keto Crisps – Top 5 low carb crisp alternatives
Keto OMAD – What is one meal a day?
Iceland – Weekly shop for one on keto (UK)
Keto Granola – Buy or make your own
Updated articles
Keto Alcohol – New product recommendations and new sections on sparkling wines and hard seltzers.
Month in review
Let's take a look at the some of the highlights that happened this month.
OMAD
I tried OMAD for 10 days this month after I wrote about it earlier in the month (here). I'll write up a full review later but the short & sweet review is that I found it quite fun.
Trying to consume my entire daily 2,000 calorie allowance in one sitting was surprisingly difficult. It's a lot of food and requires more than one plate. However, I only had to the washing up once a day which was a nice bonus.
Exercise
Remember back in the day when you were only allowed to go outside and exercise once a day. Oh right, that was earlier this year…
Indoor gyms reopened at the end of the month but I've decided to freeze my membership for at least another month. I'm a member of PureGym and the thought of touching sweaty machinery whilst in the midst of a pandemic just doesn't quite appeal to me. I'll revisit that next month and see where we stand.
I've stuck to working out at home five times a week and I find it a great way to start the day.
Running
July had perfect weather for running so I had no excuse not to put the kilometres in. I signed up for a few Strava challenges to act as something to focus on.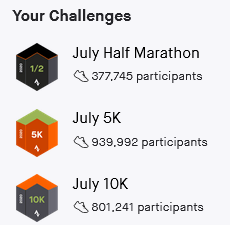 My usual target is to do three 5km runs a week which I've been pretty consistent with for the past few months. This is coming from a person who only started with C25K back in January.
The new challenge I wanted to complete was to run 21.10km (half marathon), which was difficult and did include some stopping to catch my breath and recover from a few stitches. However, I did it and it's my longest run so far!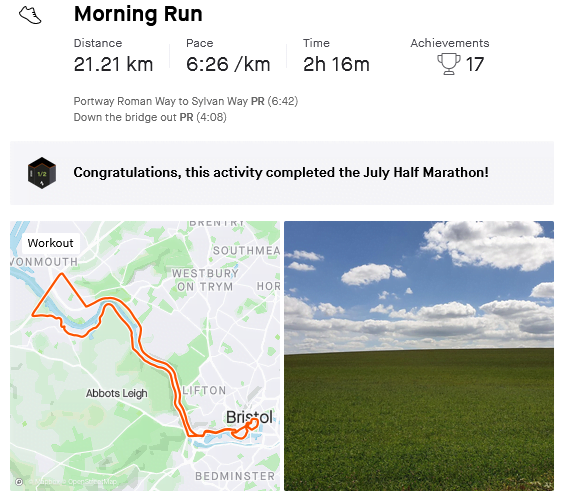 Side note – the background picture on this article's thumbnail was taken on this run.
Shopping
With the pandemic still very much going on, I've been avoiding the shops. About 90% of my grocery shopping is done online and surprisingly I've been saving money.
This month I've used Iceland a couple of times as they had some vouchers to save on your shop. If you're curious check out one of my weekly shops in Iceland here. They don't just sell frozen food!
As always I have my regular Amazon Subscribe & Save subscription delivered which consisted of the following food & drink items.
Note – since the pandemic started, the prices have varied quite considerably, especially peanut butter but looks to be calming down now.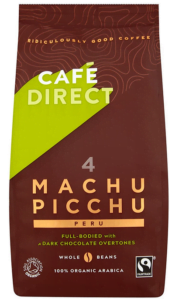 On top of that, I finally ran out of coffee so I picked up some Cafédirect Fairtrade Machu Picchu Organic Whole Beans and they are delicious. I've somehow already gone through a whole bag. Unfortunately, they are not yet on Subscribe & Save but hopefully, that changes soon.
For a couple of months, I've been using ground coffee but fancied a change and started manually grinding my beans again. I dusted off my old hand coffee grinder and got milling. It may be a bit time consuming but it's actually quite an enjoyable process and gives me time to pause and think.
Food
Keto Rule #1: You've got to keep trying new things.
I just made up that rule but it holds true for most things in life. Eating the same things day in day out will get boring and may lead you to sneak bad things into your diet. Try mixing it up and get cooking!
Wings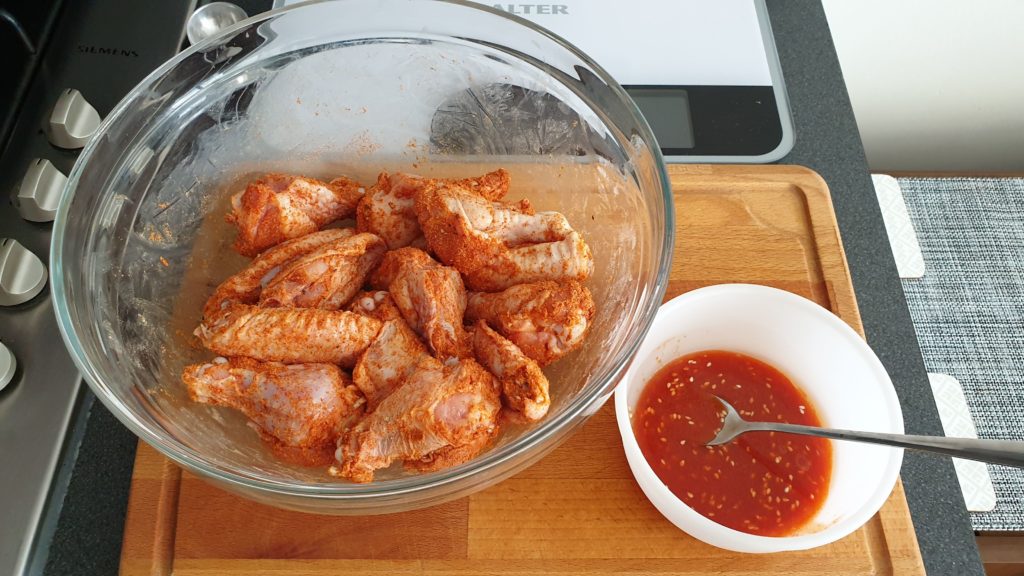 Chicken wings, the ultimate keto food. I must have eaten at least 5kg of them over the last month. Been trying a few different recipes including the old favourite (Sriracha wings) as well as using some lemon pepper seasoning. They were delicious and a nice change from the usual spicy goodness. Plus, they're much easier to prep with just some oil and the seasoning.
Cakes
From the dessert side, I keep seeing loads of lovely keto cakes and treats on my Instagram feed. Most are American and require some ingredients like Allulose which isn't available (yet) in the UK.
Fortunately, I saw a Reddit post for carrot cake which piqued my interest and only required commonly available ingredients. I bookmarked it but by them I got round to making it the poster had deleted the recipe. Oh well, a quick Google search later and I picked this recipe by Ditch the Carbs. The only thing I didn't include was the walnuts.
Doesn't look too bad, does it? It tasted amazing but oh boy is it calorific. The entire cake contains a whopping 3861 calories which equates to about 480 calories per slice (based on 8 slices per cake). A slice goes perfectly with a nice cup of coffee in the morning, noon and night.

At 6 carbs per slice it's on a bit of the high side and when I make it again I think I would reduce the amount of carrot and replace with almond flour, that should bring the carb count down.
Fries
Lastly, I've been missing fries and been trying different vegetables to see what makes a good replacement. I've found that swede and courgettes make an adequate substitution for potato. Even better if you put some mozzarella on them near the end of cooking.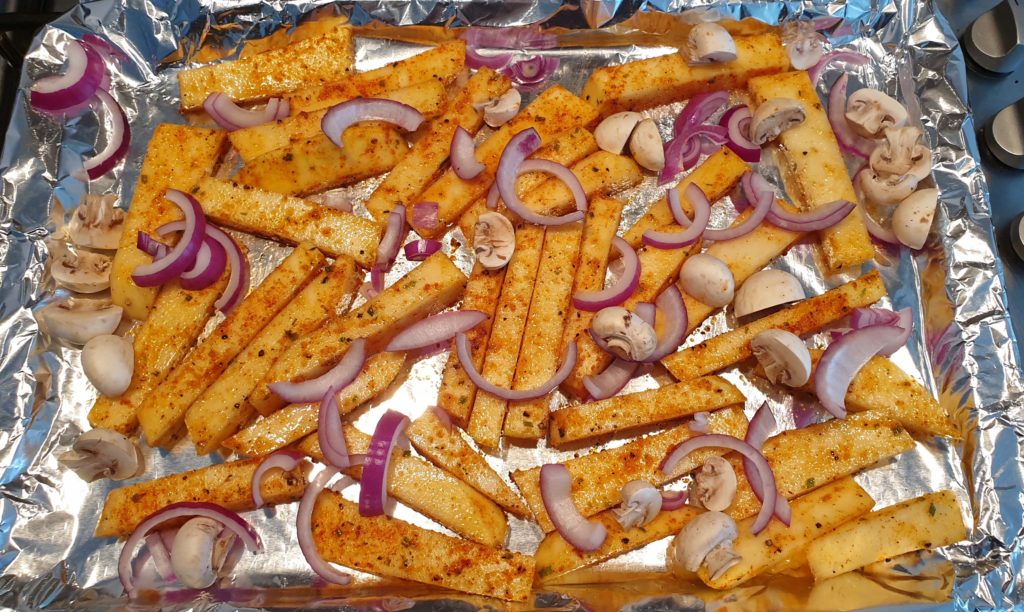 To cook them, all you need to do is cut them into fries, drizzle some olive oil and add seasoning (salt, pepper, paprika, cayenne pepper and garlic & onion powder), then roast them at 180c for about 40 minutes or until brown.