Sweet & Spicy Keto Sriracha Wings Recipe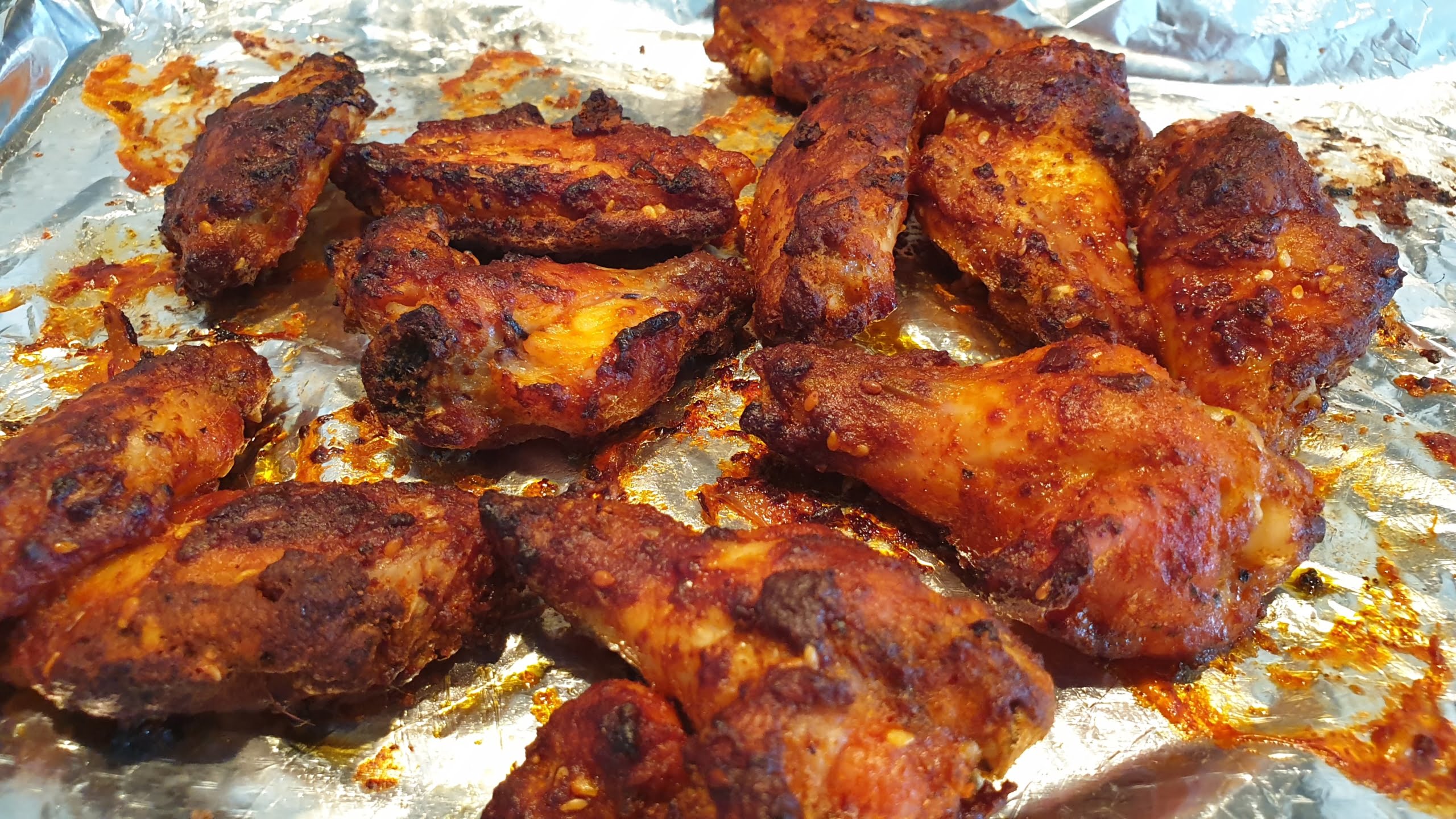 Like chicken wings? Well, you're in for a treat today, you have to try out these Keto Sriracha Wings that are equal parts spicy, crispy and sweet.
Getting an extra crispy skin
To make the keto sriracha chicken wings extra crispy we're going to use baking powder. I know it might sound a bit weird but the powder draws out the moisture in the skin ensuring that it gets extra crispy.
The recipe is split into two parts the marinade and the sauce. If you have the time I thoroughly recommend that you prepare the chicken and marinade the day before and leave them to marinate overnight in the fridge. This ensures that the flavours are fully absorbed and that the baking powder can work its magic! If not, then no worries you can skip this part!
Low carb keto Sriracha sauce
In the UK there are plenty of brands of Sriracha sauce and even more, marketed under the more generic "Garlic Chilli Sauce". However, upon close inspection, you will notice that a lot of them contain a whole load of sugar. Some are even upwards of 40g+ per 100g.
Even though we are only using 20g split across 2 servings, we want to keep the carb count down as much as possible. Luckily, there are a few brands that are OK for keto, I like to aim for less than 20g of carbs per 100g.

To make your life easier we've already gone out and found some of the best low carb Sriracha sauces, you can view our recommendations here. For this recipe, I am going to use the Uni-Eagle Hot Chilli sauce available in Asda and other stores.
Sweetener
Lastly, in order to complement the spiciness of the Sriracha sauce, we are going to use some sweetener. This will make the perfect sweet & spicy flavour that will enlighten your taste-buds!
Your choice of sweetener is important here, my normal go-to sweetener of Erythritol is fine but there are better options. The downside with Erythritol is that it has a cooling effect which may detract from the flavour. Instead, a better alternative is Sucralose, it's super sweet (600 times more than sugar) and is keto-friendly. You can buy it in powder or liquid form and a little goes a very long way.
Check out our guide on the best sweeteners for more information. For this recipe, I'm using less than a 1g of powdered sucralose from Bulk.
On a related note, be careful about buying Sucralose from UK supermarkets as most are only 5% sucralose and 95% Maltodextrin. Maltodextrin can cause G.I issues and for some people, it can kick them out of ketosis.
Spicy Keto Sriracha Wings Recipe
Course: Dinner
Cuisine: Thai
Difficulty: Easy
Sweet and spicy keto Sriracha wings with extra crispy skin. They can be oven cooked or even air fried!
Ingredients
Marinade

1kg chicken wings

1 tbsp baking powder

1 tbsp paprika

2 tsp garlic powder

Salt & Pepper to taste

Sauce

20g Sriracha sauce

1/2 tsp sesame oil

1/2 tsp rice wine vinegar

1 tbsp sesame seeds

Sweetener to taste
Directions
In a large mixing bowl, combine marinade ingredients and mix.
If not already done, chop chicken wings into drums and flats. Add all wings to marinade and toss to combine.
Optional – cover the bowl with cling film and leave in the fridge overnight to marinate.
Preheat oven to 200 degrees Celsius (215-220c for non-fan ovens).
Line a baking tray with foil, and place all wings on the tray with the skin side facing up.
Bake for 30 minutes.
In a large bowl, combine sauce ingredients and set aside.
Remove wings from the oven, and toss in the sauce to ensure an even coating.
Place wings back on the tray and return to the oven for another 10 minutes (or until the sauce has caramelised).
Notes
Sweetener – sucralose is the preferred option but other low carb sweeteners like Erythritol are fine. Adjust the quantity for your desired sweetness.
Baking powder – it does contain some carbs around 5g per tbsp and will vary across brands. However, most don't list the nutrition on the label.