Keto meal prep – How to get started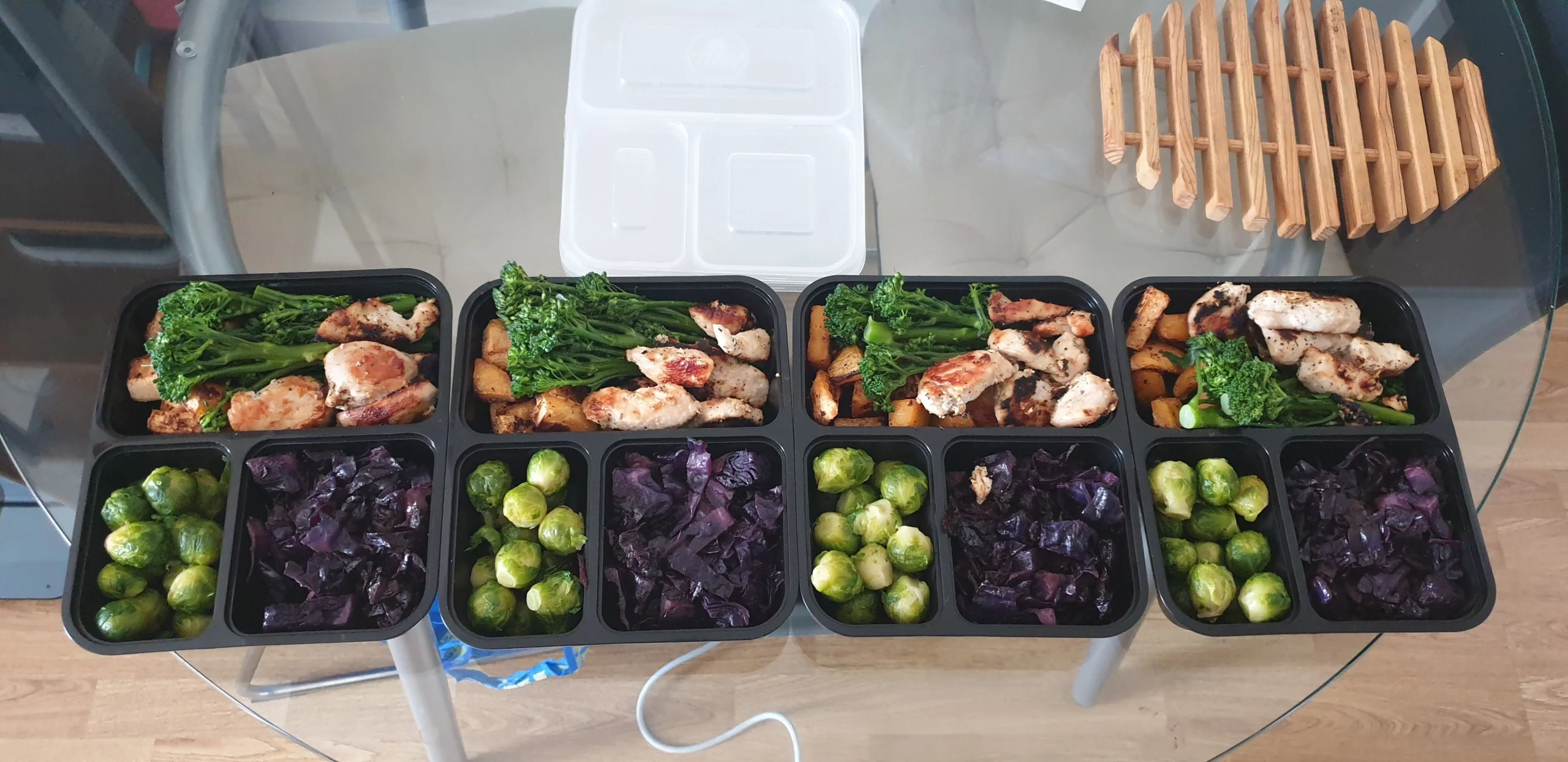 Sticking to a keto diet can be difficult, especially when you are surrounded by carbs. One of the best ways to keep you from giving in to temptation is to prepare your meals ahead of time. That way you can easily say no to the carbs and stay within your macros. Luckily, it's easy to get started with keto meal prep.
What is meal prep?
To quote Wikipedia:
Meal preparation, sometimes called "meal prep," is the process of planning and preparing meals.

MEal Preparation – Wikipedia
Put simply, it just means preparing meals ahead of time. The most common is to prep for 5-7 days at a time. Usually to cover a working week. This could involve three meals a day (+ snacks) or just one big meal (OMAD).
Meal prep is common among people that are looking to improve their overall lifestyle. Whether that includes losing weight, gaining muscle or just improving their general well-being.
Benefits of meal prep:
Helps to standardise food portions – meals can be divided, and put in containers. Know exactly how many calories are in your serving size.
Saves time – no need to cook and wash up every night! Majority of meals can be heated in microwave (if needed) and served directly in container.
Can save money – Buy food in bulk and help to curve eating out & takeaways, as you know what you're eating ahead of time.
Ensure you're reaching your macros – plan your meals so that you are hitting your macro quota for fat, protein, etc…
Decrease snacking – dig into your prepared snacks instead of going to corner shop or visiting a carb laden vending machine.
Why keto meal prep?
Short answer: One of the best things that helps me lose weight on keto, is to meal prep. I usually prepare meals for Mon-Fri on the Sunday before. That way I have them all ready to go in the fridge and can be microwaved and served in under 5 minutes.
Longer answer:
When I first started keto I found it a bit restrictive, and so finding suitable food everyday was a bit much. Not to mention expensive!
One of the ways I overcome this, is to plan my meals a week in advance and make them in the weekend. It usually only takes a couple of hours on a Sunday, and it saves me so much time during the week. As I can just pop the meal in the microwave, and only have to do a small amount of washing up!
In regards to costs, bulk shopping at Aldi and Asda really keeps the price down. Which means that my weekly shop is usually under £30 for 1 person. When I worked in London, I would spend more than that just on lunches (yes, I ate out a lot)!
It can seem a bit daunting at first, but there are so many keto meal prep plans available online to choose from. Pick one and adapt as needed, that's what I do. Just remember that not everything tastes great reheated (like fish) and not all products keep for 5 days.
Example Mon-Fri keto meal prep
When I meal prep, I tend to roughly follow the plan below. However, I do change it up from time to time, as eating the same thing can get boring!
Breakfast
Side note – Most mornings I have coffee with MCT oil and butter. This tends to keep me going till dinner, but occasionally I'll have lunch (see side note below). Obviously, you can't prep coffee so I make that fresh.
Lunch
Scrambled eggs with bacon or sausage
-or- Boiled eggs with crumpled grilled bacon pieces and Mayo
Side note – I don't usually meal prep lunch, as I tend to skip it if I'm in the office and go for a nice walk instead. However, if I do have lunch, then I may have a light salad with boiled eggs and bacon pieces.
Dinner
Roasted chicken breast with lemon and pepper
Braised red cabbage
Long-stem broccoli
Oven roasted swede
Pan roasted Brussels sprouts with bacon
Snacks
Small 25g portion of mixed nuts – almonds, pecans, walnuts and hazelnuts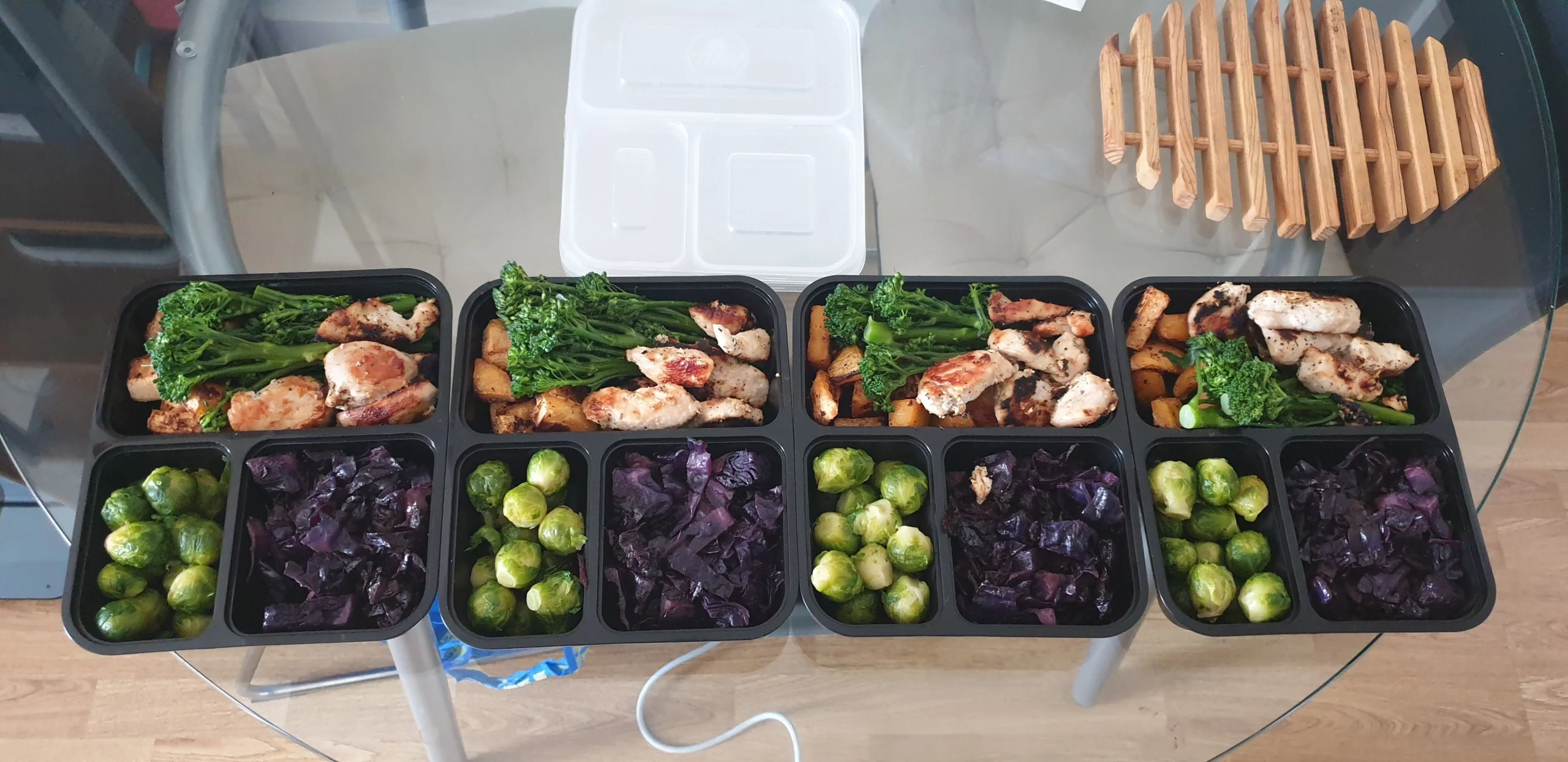 Containers
I love me some food containers! I probably have too many for one person, but they make portioning out food so much easier. Plus, they are easy to clean, and most can be used in the microwave!
In the picture above, I'm using 3 compartment containers. These help to keep food items separate. This is especially useful when you have something that is liquid, or has a sauce. Occasionally I make cauliflower mash instead of cabbage, and that fits perfectly in the medium compartment.
I also own two and single compartment containers (just to complete the set!). They tend to get used for bigger meals, like curries and larger vegetables. In addition, they also stack, so they don't take up to much room in the fridge or cupboard. I purchased them back in 2017, and they are still going strong now. These are the ones I have:
Emerald Living Premium 1 compartment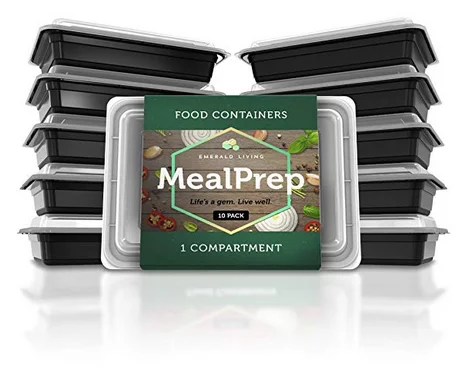 Pack: 10
Size: 1.1L
Available at: Amazon
Emerald Living Premium 2 compartment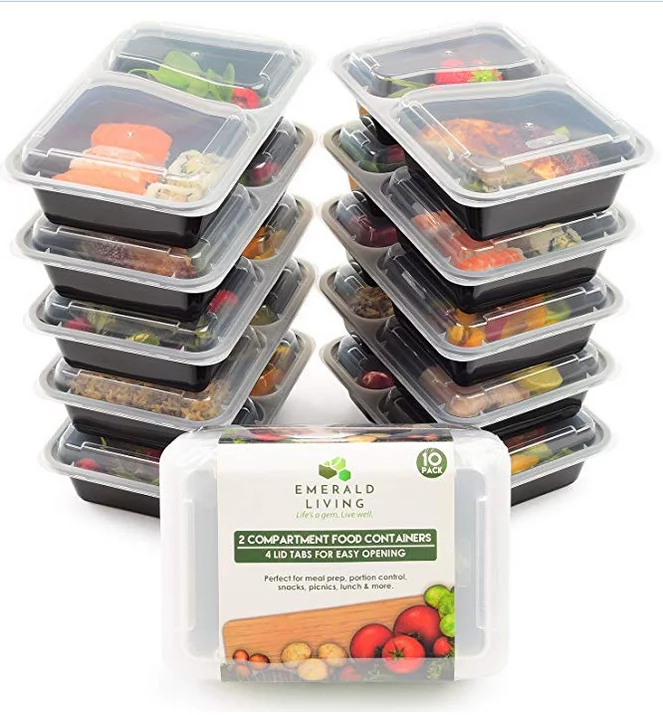 Pack: 10
Size: 0.8L
Available at: Amazon
Emerald Living Premium 3 compartment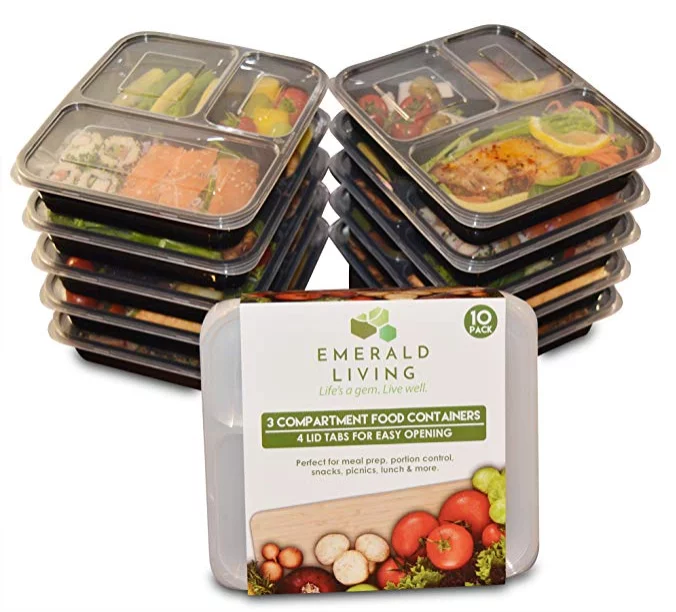 Pack: 10
Size: 1L
Available at: Amazon
If you don't like the thought of using plastic, then there is always glass. However they are a lot more expensive, though are more durable and are usually oven safe. Great, if you don't want to reheat your meal in the microwave.