Tracking keto with MyFitnessPal – Review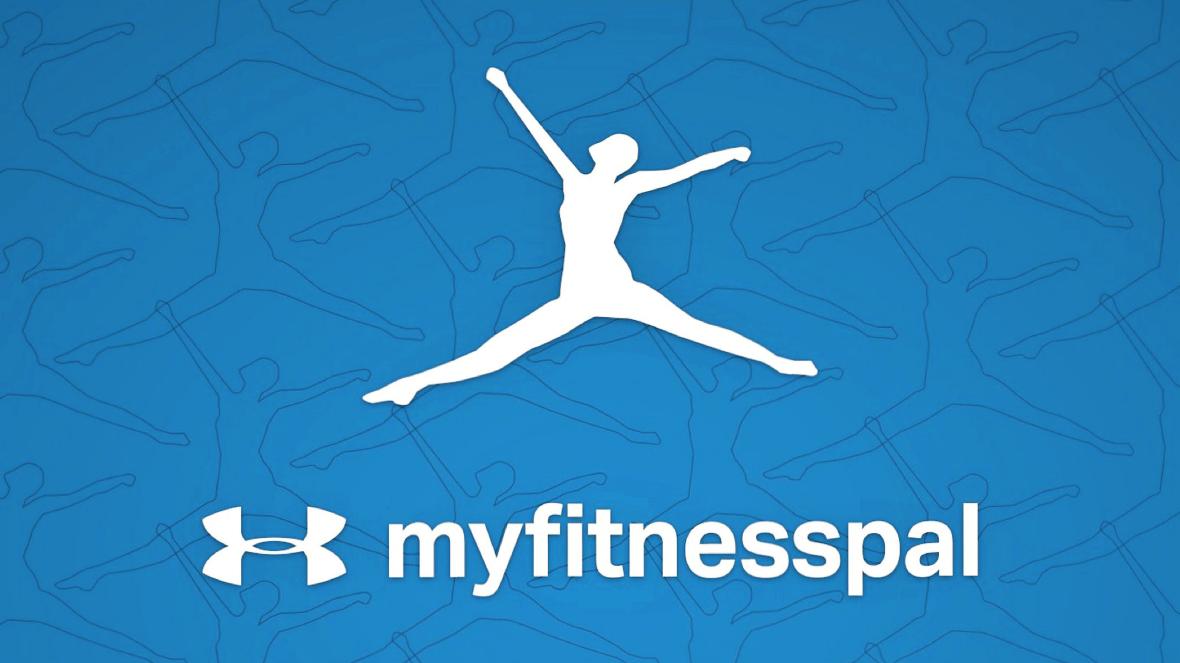 Keeping track of how many carbs you've eaten in a day can be a bit cumbersome. Luckily, there are a wide variety of food tracking apps that can do it for you! One of the best (and biggest) is MyFitnessPal. Let's take a look at how you can use it on keto.
What is MyFitnessPal
From their own Wikipedia page:
MyFitnessPal is a smartphone app and website that tracks diet and exercise. The app uses gamification elements to motivate users. To track nutrients, users can either scan the barcodes of various food items or manually find them in the app's large pre-existing database.

https://en.wikipedia.org/wiki/MyFitnessPal
Basically, you can enter all the food and drink you consume in a day and it will keep track of all the calories, carbs and other nutrition data. In addition, you can input your macros and daily calorie goal and see if you come in above or below it. There are many more features which we'll look at more in-depth below.
Database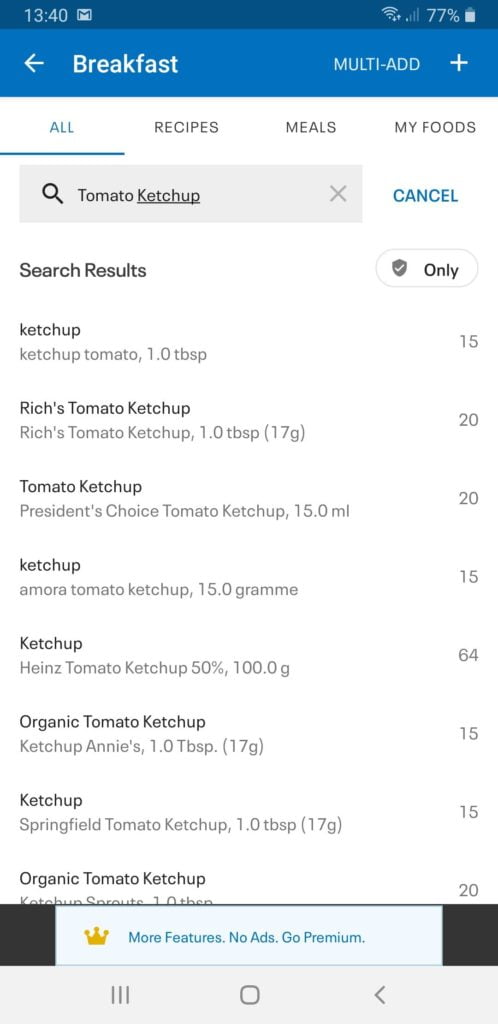 One of the biggest parts of MyFitnessPal is their food database. It contains user submitted entries of over 11 million different food and drinks items.
When adding food and drink to your daily dairy you can search this database and add it to your entry. You can search by name, brand and either by barcode (UPC). That can be done by either scanning the barcode directly with the mobile app or by entering the number in the barcode image.
Accuracy and US-centric data
Any user can submit an item by either scanning the barcode on the product or manually inputting the name. They will then enter the nutrition information (listed on the product packaging) as well as serving sizes. Other users can then confirm that the information is correct by voting it up (or down if it's inaccurate).
One of the downsides with user-submitted data is that it can be mistyped or just plain wrong. Whenever you're searching for a product to add always take a quick glance at the nutrition to see if it roughly matches the information on the pack.
Another issue for us UK folk is that a lot of the basic items (not unique to the UK) available globally are generally entered by US people. This normally means that the Carb count will include fibre which of course is listed separately on UK nutrition labels. Just something to be wary of and try and see if you can find the product listed with the UK in the name.
App / Platforms
I use MyFitnessPal on both my phone (Android), iPad (iOS) and PC (Web Browser).
You can get the apps here:
The user experience across platforms is pretty universal with only very minor changes that most will not even notice. In order to start using the apps you will need to create an account and fill in some basic information.
The data syncs across all devices so you can fill out your diary wherever you are!
Community
Like a bit of healthy competition? Then why not get a couple of your friends to sign up. You can add them as friends in the app and give them access to your diary and other fitness reports. The level of access can be controlled, so if you don't want to share your weight and what you've eaten in a day, the choice is yours!
Another big part of MyFitnessPal is the community there is an active forum where you can visit and discuss pretty much anything. From success stories and NSVs to diet tips and tricks. Most members are extremely helpful and would love to help you on your fitness journey!
Setting Goals / Macros
To get started you need to set your daily nutrition goals. With the basic subscription you can only set the macronutrients split (carbs, fat and protein) by percentage.
I tend to go for 5% carbs, 60% fat and 35% protein. With a 2000 daily calorie goal that equates to around a 25g daily carb limit. You can always change it later.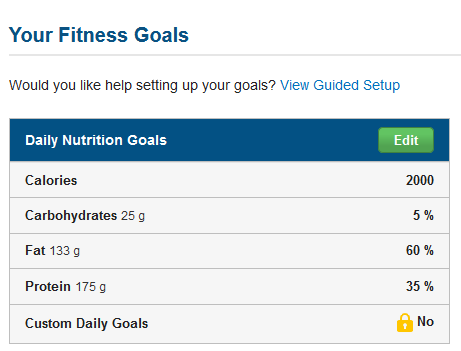 Scanning / Input food
Now that you have some goals in place, you need to fill in your food diary! Using any of the available apps you can select the meal the food needs to go under and press Add Food. Then you can search for the food either by name or barcode and enter the serving size.
Recent Foods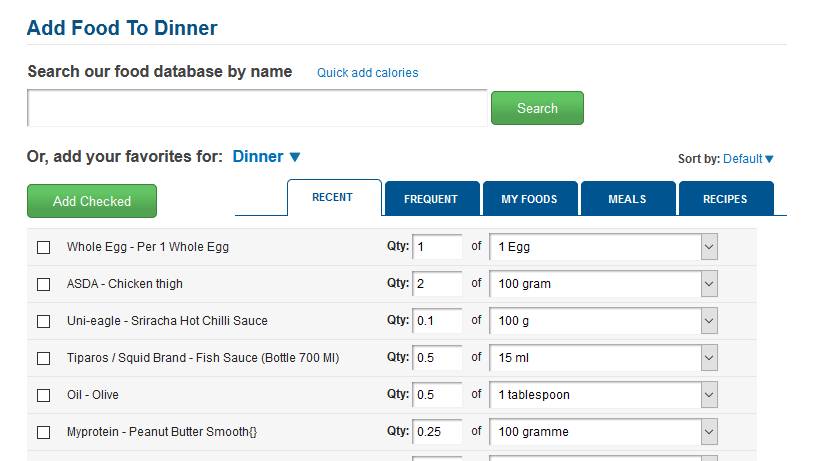 MyFitnessPal remembers the items you have selected previously. You can then pick these from your recent list to save you time entering common food like eggs and oils. Once you get use tho this you will be lightning fast at filling in your daily dairy!
Copying meals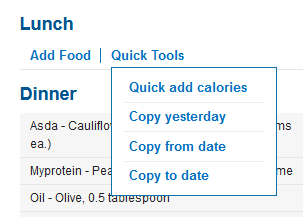 If you like to meal plan or commonly eat the same thing for breakfast or dinner, then you can use the copy meal function. This allows you to copy the entire food list of ameal (like Dinner) from a particular day and paste it in for the current day. Thus saving time and effort!
Create foods
If you like to prepare your meals from scratch and have them often then it can be a bit of pain entering the ingredient list every time. Luckily, you can create a custom food entry for a dish and also supply the macronutrients. This can then be selected time and time again, you can even share it across the whole of MyFitnessPal if it's a popular recipe.
Example day Diary
I've been filling in my food diary continuously for over 855 days and it has become a part of daily life!

The image below shows a standard diary entry for a weekday, you can see that there are quite few entries. However, it probably only took less than a minute to enter all of them as most are copied from previous days or selected from the recent foods list.
Tracking Weight and Measurements
In addition to logging food intake, you can also log your weight and other measurements. You can then view charts showing your progress and easily see trends.
You'll also see your weight loss total on your homepage and in your news feed which can be a great motivator to keep carrying on!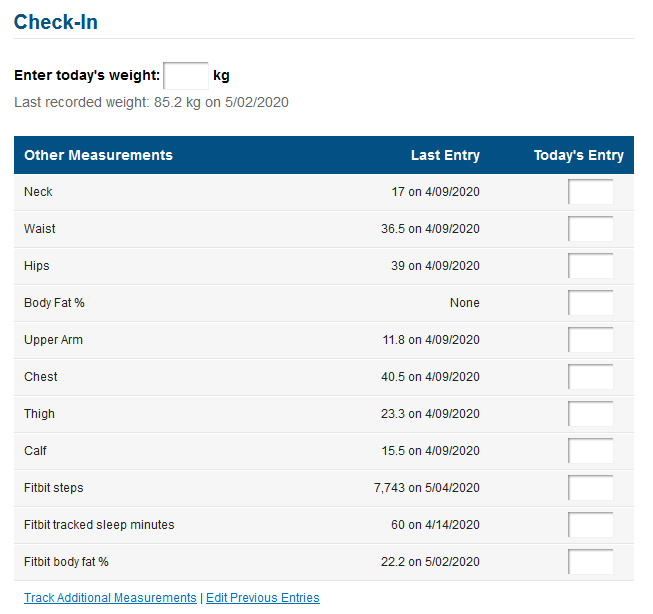 App Integrations
Got a Fitbit or other popular fitness apps/devices? Then there is a good chance that you can integrate it with MyFitnessPal.
I have my Fitbit set up so that the exercise data syncs directly to MyFitnessPal and the food/drink info in MyFitnessPal syncs back to Fitbit. It's easy to set up and once it's done you don't have to worry about it again. Additionally, my Smart Scales sync to Fitbit and by virtue of that it syncs up the chain to MyFitnessPal.
Some of the most popular app integrations include:
Fitbit
Apple HealthKit
Samsung Health
Garmin
MapMyRun
Strava
A complete list of available app integrations can be found here.
Premium Subscriptions
Introduced a couple of years ago is the Premium subscription for MyFitnessPal. However, it's worth remembering that the base app is completely free with only the occasional ad.
The premium plan offers the following additional features (as of May 2020):
Nutrient Dashboard – Choose different views other than the default one.
Food Analysis – Learn which food rank highest in nutrients.
File export – Export your progress, meal and exercise data to CSV.
Calories goals by meal – goals per meal instead of just daily.
Different goals by day – custom goals per day.
Exercise calorie settings – set goals for exercise
Meal level carbs, protein and fat – view macronutrients by gram or %
Quick add carbs, protein and fat – track not just calories but other metrics too.
Carbs, protein and fat by gram – set macronutrient goals by the gram and not a percentage.
Ad-free
Exclusive content
Priority customer support
So is it worth it?
Honestly, there are a few features that I would like to have (listed below) and the cost is currently £39.99 a year (£3.33 a month, billed annually) or £7.99 billed monthly. The price seems reasonable and if you want any of the features then I so go for it. You can even try out the premium features for 30 days and cancel it before you're charged.
Ad-free – no adds, enough said!
File export – being able to export data and generate charts in Excel would be handy
Quick add carbs, protein and fat – carb counting is important to keto, so being able to add macronutrients to your diary could prove useful.
Different goals by day – set different macro gaols based on an exercise I'm doing that day.
The others are nice to have but don't seem particularly useful (in my opinion).
Conclusion
As I mentioned, I've been using MyFitnessPal continuously for over 855 days and I believe it's played a huge part in my weight loss journey. It helps me to hold myself accountable and think about what I'm eating and stuffing in my mouth!
On a related note, It's okay to have bad (cheat) days but just make sure you log them so you can see the repercussions. Even if you don't feel like logging all the individual food items, you can just use the quick add calorie function to guesstimate how much you consumed.
Overall, I thoroughly recommend MyFitnessPal and suggest you give it a go for a month and see how you feel.