Keto coffee – Beanies flavour coffee products review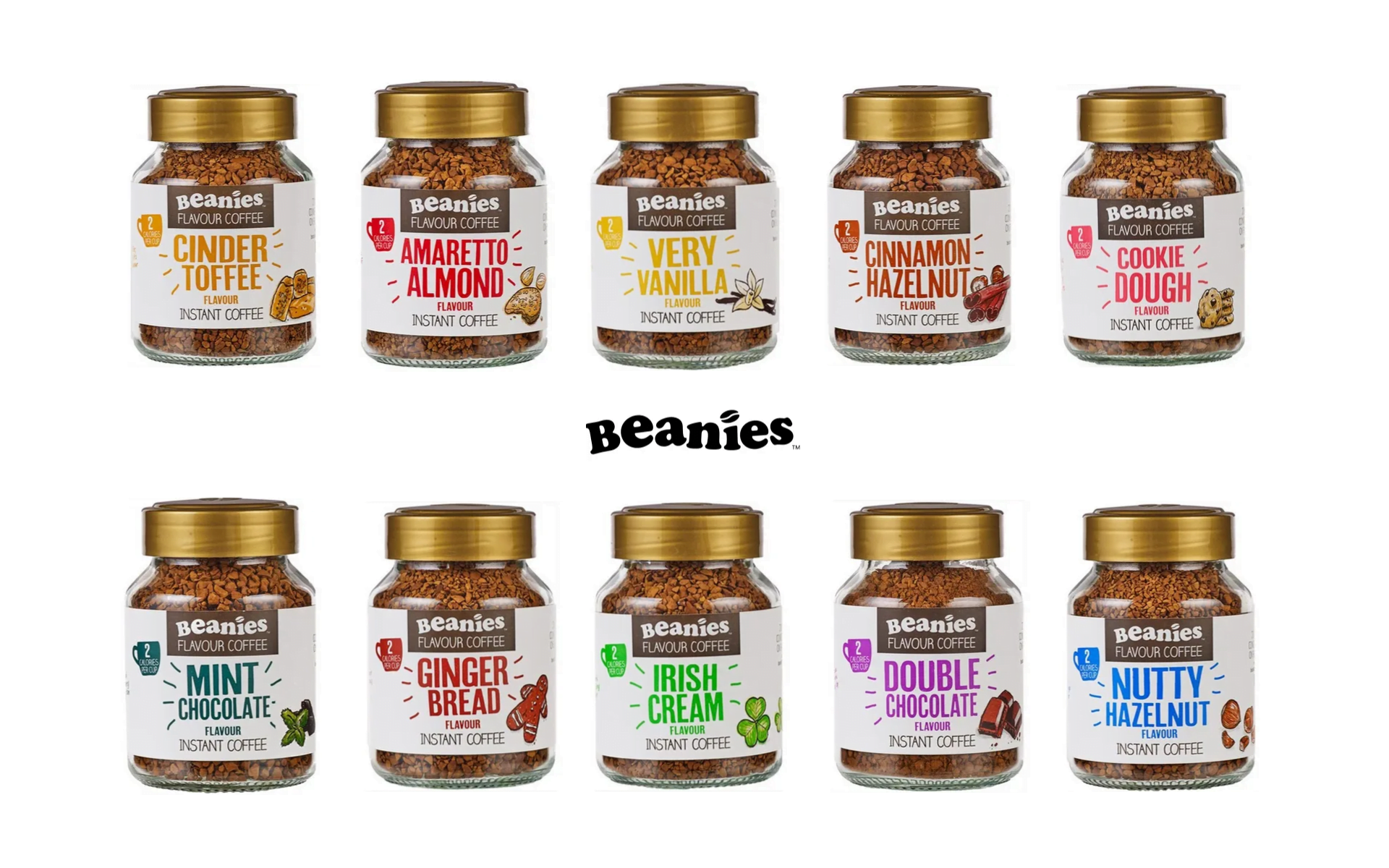 I love coffee and drink it almost every day! Normally I will spend the time and make it using an AeroPress or Cafetiere (check out the best coffee preparation methods). However, sometimes I'm in a rush or at an office so use instant coffee in a pinch. One of the brands I've been trialling recently is Beanies Flavour Co, they sell a range of flavoured instant coffee that I've been working my way through. This article will be me giving my honest review of the flavours available in the Beanies instant coffee range.
Note – these are my own thoughts. I purchased these products using my own money and have not been sponsored to make this content.
Product range
Beanies Flavour Co sale a range of products, including: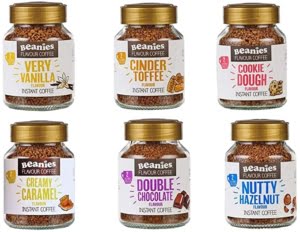 Instant coffee – small 50g jars of instant coffee available in a wide range of flavours. Each jar makes around 25 cups of coffee.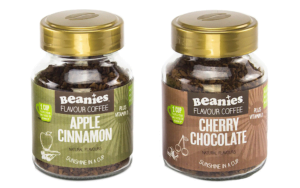 Beanies + – flavoured instant coffee fortified with Vitamin D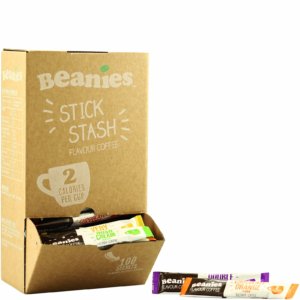 Sticks – individual sachets of their flavoured instant coffee, great for taste testing all the flavours before committing to a jar.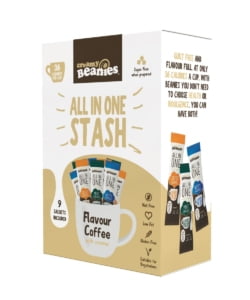 All in 1 – sachets that contain coffee, flavour and creamer – all in one.
Thick Shakes – flavoured milk powder that can be added to milk to create a shake.
Gifts – a range of products like mugs, travel cups, starter packs and bundles.
Are they keto-friendly?
You're on a site about keto, so you probably want to know if any of their products are keto-friendly, right? Let's take a closer look.
Instant coffee – their main product is safe for keto and contains no added sugar. The coffee granules are 'infused' with flavour instead of the more common method of coating them. They also don't contain any of the usual additives like dextrose, fructose, syrups or even artificial sweeteners. In addition, it's nice to see that they are gluten-free, suitable for people with nut intolerances as well as vegetarians & vegans.
Beanies + – keto-friendly, the only difference between them and their main range is that they are not suitable for vegans.
Sticks – keto-friendly, they are just smaller quantities of their main instant coffee range.
All in 1, Thick Shakes – not suitable for keto, as they contain sugar and other carbohydrates like milk powder.
Data gathered from their FAQ page on their website available here.
Beanies coffee flavours review
I have yet to try the complete range of Beanies instant flavoured coffee but here is my review list (so far). Of course, everyone has different tastes so you may like what I can't stand! Give them try and see.
Rating – each rating is scored out of 5. Higher is better and more likely to buy again. I've divided my reviews into three sections (love, ok, dislike).
Love (4-5)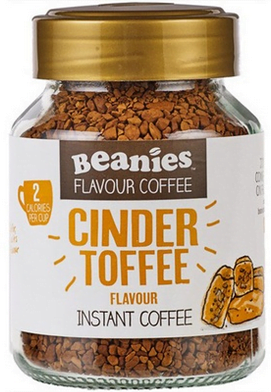 Cinder Toffee
Rating: 5
Review: Hands down absolute favourite. A sweet honeycomb taste and lovely toffee aroma.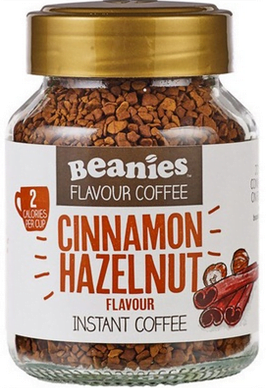 Cinnamon Hazelnut
Rating: 5
Review: Reminds me of the gingerbread flavour but with an added nutty taste. Combines two great flavours into one!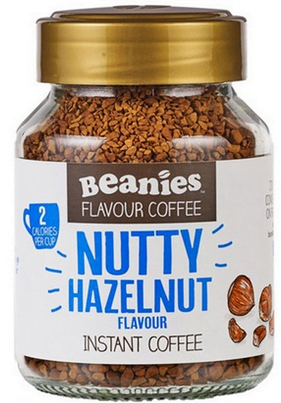 Nutty Hazelnut
Rating: 4
Review: Strong hazelnut aroma and nutty taste.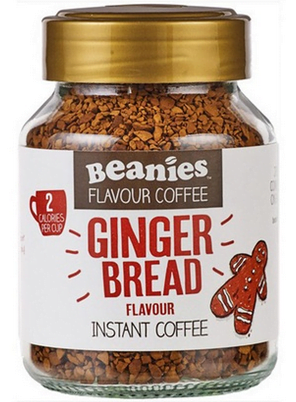 Gingerbread
Rating: 4
Review: Nice level of spice and warming flavour. Not too overpowering.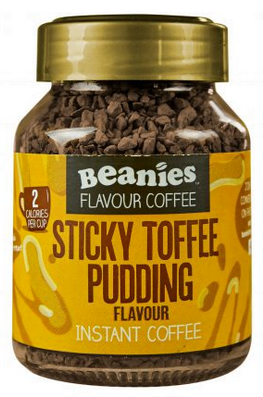 Sticky Toffee Pudding
Rating: 4
Review: Pleasant smell and taste but quite weak flavour.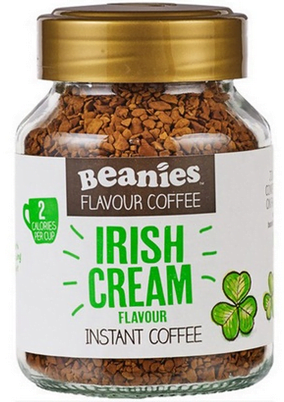 Irish Cream
Rating: 4
Review: Lovely smell and flavour.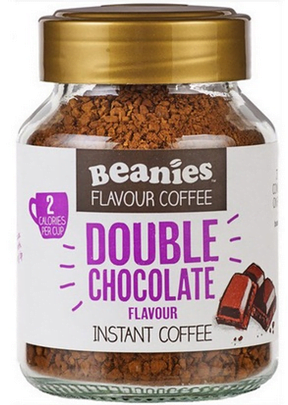 Double Chocolate
Rating: 4
Review: Lovely aroma of chocolate and smooth taste.
Cookie Dough
Rating: 4
Review: Similar to double chocolate but with a sweeter taste.
OK (2-3)
These flavours are OK and while not perfect, are drinkable.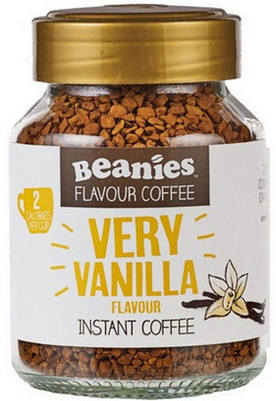 Very Vanilla
Rating: 3
Review: Strong vanilla taste and aroma that I find a bit too overpowering in a drink.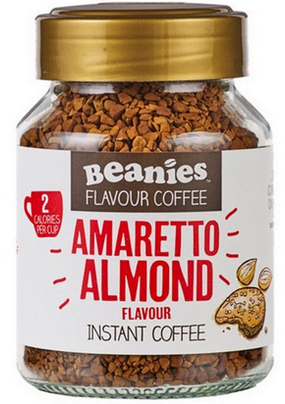 Amaretto Almond
Rating: 2
Review: Reminiscent of biscotti but I find that it has a slight chemical artificial aftertaste that somewhat spoils it.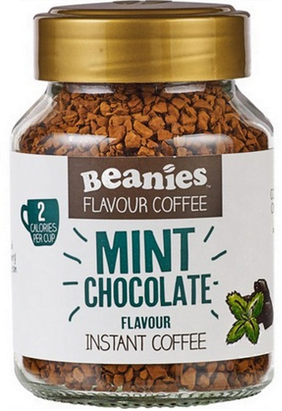 Mint Chocolate
Rating: 2
Review: OK taste but a bit too minty to have as a coffee that often. Also has a somewhat chemical smell.
Dislike (0-1)
I would not buy these flavours again, see the individual review for the reason.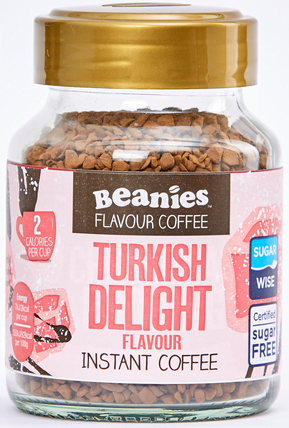 Turkish Delight
Rating: 1
Review: Way too pungent and sweet as a coffee.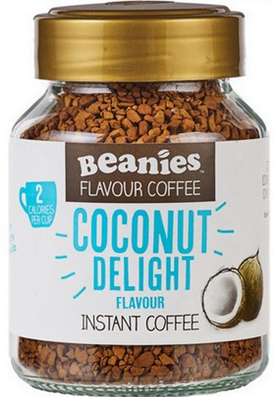 Coconut Delight
Rating: 1
Review: I normally like coconut flavoured products but it just doesn't work in a coffee (for me).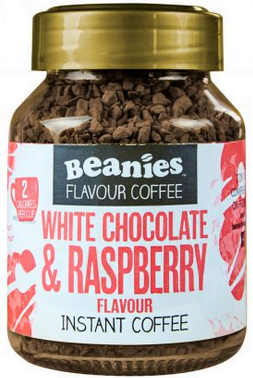 White Chocolate & Raspberry
Rating: 0
Review: The raspberry aroma is a bit overpowering and the white chocolate taste leaves an odd aftertaste.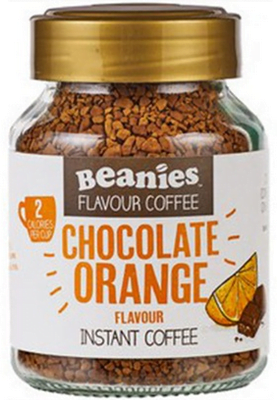 Chocolate Orange
Rating: 0
Review: I've found that whilst on keto, any orange flavoured products taste terrible. I get an overpowering chemical taste that spoils the drink completely.
Yet to try
I haven't yet tried these flavours but will update their rating once I have.
Maple Fudge
Creamy Caramel
Hot Cross Bun
Sweet Cinnamon
Pumpkin Spice
Apple Cinnamon
Cherry Chocolate
Brandy Snap
Nutrition information
The nutrition information for Beanies flavoured coffee varies based on the flavour. Complete nutritional information for each product/flavour can be found on their website here.
On average, a cup of flavoured coffee contains 2kcal and <0.2 of carbs (based on 2g/185ml water)!
Where to purchase
Most of the instant coffee jars can be found both in-store and online at multiple retailers. The price can vary and can often be found on offer. I've included the most popular retailers below.
Beanies Flavour Co

You can purchase their complete product range directly from their own website. Spend over £20 to get free delivery.
Aldi & Lidl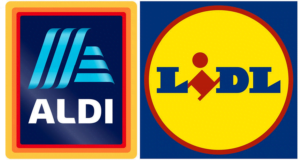 Both stores stock some of the product range but mainly just the instant coffee jars. However, they won't have all the available flavours. Price is usually around £1.99 per 50g jar. Check out the coffee & tea section or the bins in the middle of the store. Only available in-store.
My Vitamins

They tend to stock the complete coffee flavour range as well as some gifts. Price is £2.49 per jar but they are normally on offer for 3 for the price of 2. Making it one of the cheapest ways to order in bulk. Plus, spend over £25 and you get free delivery. Check out the range here.
Amazon

You can search on Amazon for the complete Beanies Flavour Co product range. Prices will vary amongst sellers but some good offers can be found. Some examples:
Make some coffee
Why not make a nice butter coffee with one of these flavours? Check out our Butter Coffee guide for more information and step by step instructions.