Keto Sweet and Sour Chicken Recipe – Low carb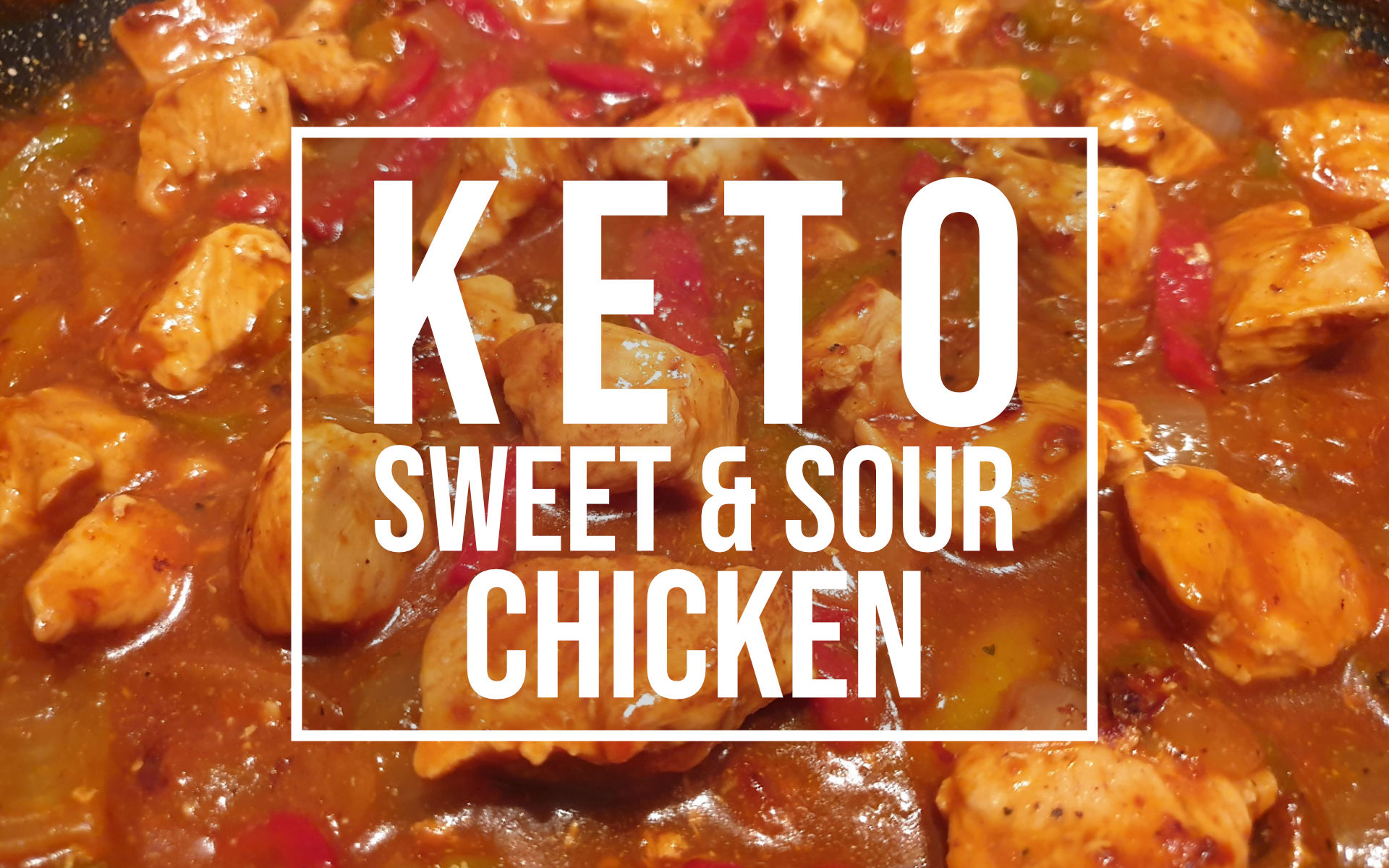 Fancy some Chinese food while on keto but aren't sure where to begin? Worry no longer! Check out our keto sweet and sour chicken recipe that is low in carbs but high in taste!
One of the nation's favourite Chinese dishes is sweet and sour chicken. The actual sauce is ridiculously easy to make, as it only contains sugar, tomato ketchup, vinegar, soy sauce, water, and corn flour. If you have your keto cap on, then you've probably guessed that it's a no go for us keto folks!
Where to get the ingredients
Luckily, we can substitute most of the ingredients for low carb keto-friendly alternatives. Most (if not all) can be found in your local supermarket and while some of them may sound a bit weird (Fanta). They work well together!
Fanta Zero Sugar (Orange)
Most normal sweet & sour dishes contain pineapple which adds to that sweet and sour taste. However, pineapple is a bit high in carbs at about 10-13g per 100g. Instead, we can use some sugar-free orange soda. Most brands are fine, but I've found that Fanta Zero sugar works best.
Fanta Orange Zero, 2L
Fruity orange drink with no added sugar
Made with real fruit natural flavours
Contains a source of Phenylalanine
No artificial colours and calories
Sale
Fanta Orange Zero 330ml Case of 24
Sparkling Low Calorie Orange Fruit Drink with Sweeteners.
Liven up any occasion with this tongue tingling, fruity orange drink with no added sugar.
Fanta Zero's cool taste is made with Real fruit, Natural flavours, No artificial colours, No added sugar
Multipack of 24 x 330ml cans
White Wine Vinegar
Any white wine vinegar will do, it can be found in almost all UK stores in the oil, herbs and vinegar section.
Aspall Classic White Wine Vinegar, 350ml
Classic white wine vinegar
For dressings, sauces and marinades
Crisp flavour and a deliciously refreshing fruit aroma
Bright acidity is perfect for adding piquancy to a range of dishes, sauces and marinades
Suitable for coeliac, vegetarians and vegans
Also available at: Asda & Sainsbury's
Frozen Mixed Peppers
Alternatively, you could use fresh peppers but having a bag of mixed frozen peppers makes this dish even easier to prepare and cook.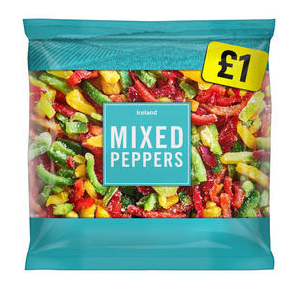 Available at: Asda, Iceland, Sainsbury's & Tesco
Tinned Chopped Tomatoes
Beware, not all tinned tomatoes are the same! Some contain added sugar, look for tins that have about 3-4g of carbs per 100g (recommend KTC brand). This recipe only uses half a tin, so adds about 6g of carbs to the total dish (3g per serving, based on two servings).
Sale
KTC Tomatoes Chopped 400 g (Pack of 12)
Good base for Mediterranean dishes
Peeled & ready to use
Suitable for vegetarians.
It will add a yummy tomato flavour to your dishes.
It's versatile, easy to use and free of additives.
Also available at: Asda & Sainsbury's
Tomato Ketchup
To add a bit of tang, tomato ketchup is used. Normal ketchup is laden with sugar so we need to source a low carb alternative. Check our complete round-up of the best UK tomato ketchups here.
For this dish, we will be using the winner – Heinz no added sugar & salt tomato ketchup, with only 5.4g of carbs per 100g!
Also available at: Asda, Sainsbury's & Tesco
Chilli Flakes
A little bit of heat enhances the other flavours but if you don't like spice this can be omitted. Adjust to your desired heat level.
Powdered Sucralose
It wouldn't be sweet and sour without the sweet! While the tomatoes, ketchup and Fanta bring some level of sweetness, I find that we need a little bit extra.
Any keto-friendly sweetener will do (see our complete list here), sucralose doesn't have any weird after taste and only a very little amount is needed.
Sale
Bulk Sucralose Powder, Zero Calorie Sweetener, 100 g, Packaging May Vary
High quality Sucralose Powder from a leading sports nutrition brand
Contains zero calories, so is perfect for those on a calorie restrictive diet
Sucralose is 600 times sweeter than sugar, so only a small serving size is required
Can be used to sweeten tea or coffee, in home baking, or added to unflavoured protein powder
Available in a range of sizes
Also available at: Bulk
Xanthan Gum
Most Chinese recipes use cornflour to thicken sauces. In its place, xanthan gum can be used. It's a little harder to work with but does the job.
Best served with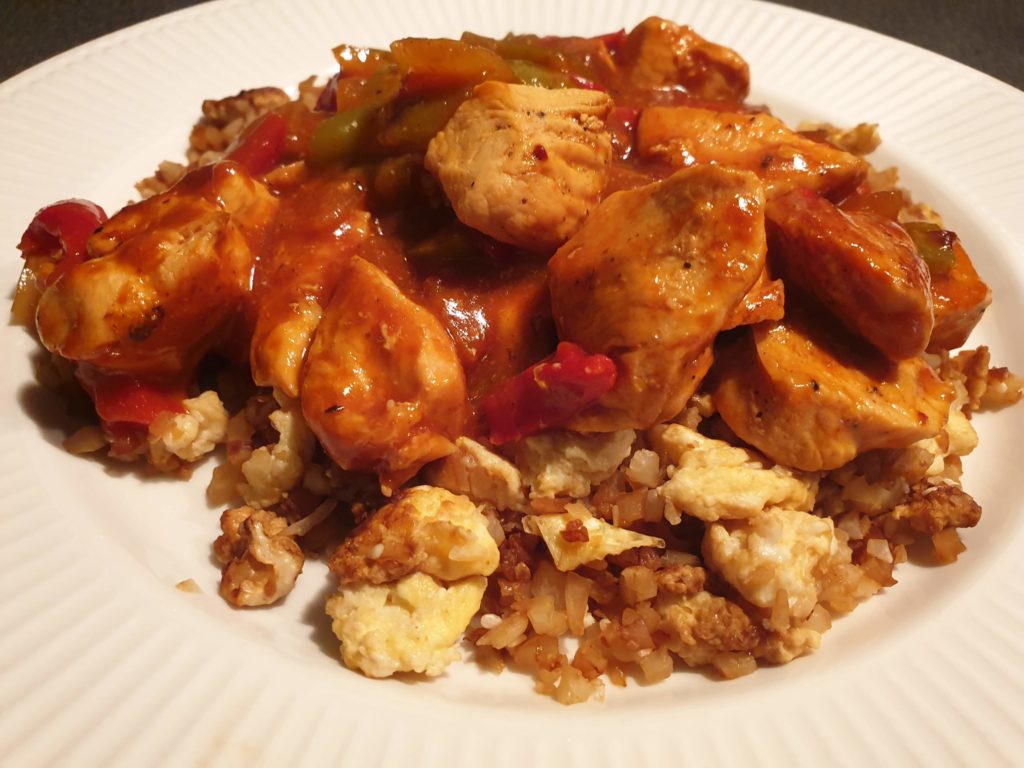 One of the best low carb sides to go with this keto sweet and sour chicken recipe is egg fried rice. Just instead of normal grain rice, we use cauliflower rice!
Grab a bag of microwaveable cauliflower rice and cook according to packet instructions. Once cooked, pour into a frying pan on medium heat. Make a well in the middle of the pan and crack an egg into it.
Give it a few seconds then break the egg up and mix into the rice. Allow it to cook and spread amongst the rice.
Add a dash (about 1/2 tsp) of each of the following fish sauce, oyster sauce, sesame oil, and soy sauce. Toss once more and serve with the keto sweet and sour chicken!
Keto Sweet and Sour Chicken Recipe – Low carb
Course: Main
Cuisine: Chinese
Difficulty: Easy
Ingredients
300g chicken breast, diced

300ml Fanta zero sugar (or 1 can)

1 brown onion, roughly chopped

120g mixed peppers, roughly sliced (ready made chopped frozen works well)

200g tinned chopped tomatoes (1/2 can)

1 tbsp white wine vinegar

1/2 tsp chilli flakes

1 tbsp no added sugar & salt tomato ketchup

Sprinkle of powdered sucralose (about 2g)

1/2 chicken stock cube

50ml boiling water

1/2 tsp xanthan gum

Salt to taste
Directions
Place a large frying pan or wok over medium-high heat, and add cooking oil (spray, olive oil, or peanut oil). Add onion, and cook until softened and translucent.
Add chicken and cook for about 5 minutes or until browned.
Add peppers and cook for 2-3 minutes (longer if using frozen peppers).
Pour in Fanta and tinned tomatoes, and add vinegar, chilli flakes, sucralose, and tomato ketchup. Stir well and reduce heat to medium.
In a cup, add 1/2 stock cube to 50 ml of boiling water and mix until combined. Add xanthan gum and whisk until a thick gelatinous mixture is achieved.
Add xanthan gum mixture to the pan and mix well. Bring the pan to a simmer and cook for about 10-15 minutes or until the desired thickness is achieved.
Nutrition Facts
2 servings per container
Serving Size350g
---
Calories220
Amount Per Serving% Daily Value *
Total Fat 3.49g

6

%
Amount Per Serving% Daily Value *
Total Carbohydrate 8.16g

3

%
Protein 38.21g

77

%
* The % Daily Value tells you how much a nutrient in a serving of food contributes to a daily diet. 2,000 calories a day is used for general nutrition advice.