Keto Ketchup – Top 3 low carb tomato ketchup sauces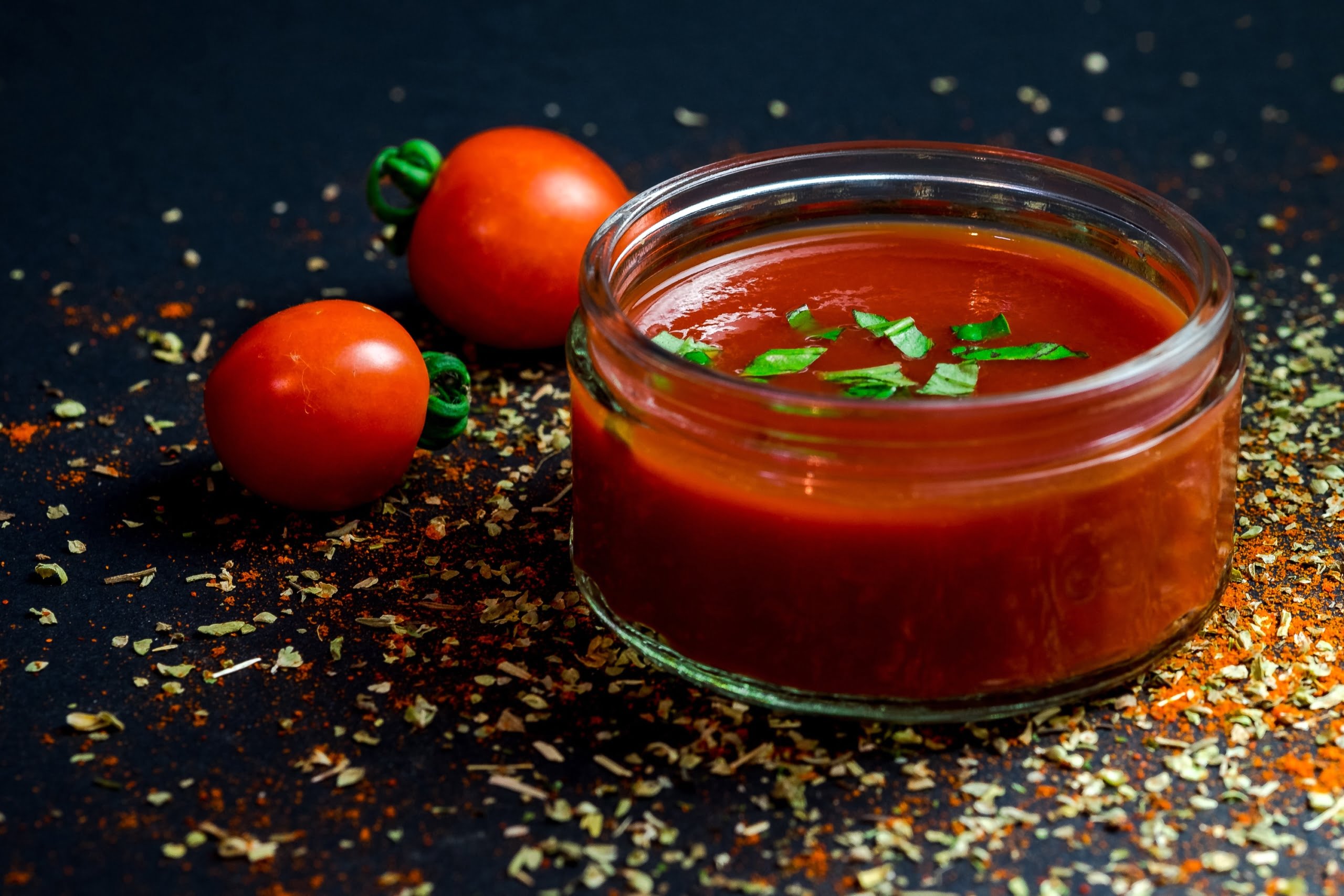 Tomato ketchup, a British staple since at least 1886. A great sauce that goes on almost anything! Everyone has their favourite brand but the definitive tomato ketchup has to be Heinz. However, most ketchups contain a whole load of sugar (around 23g per 100g). That is just way too much on keto. Luckily, there are now quite a few low carb keto tomato ketchup sauces available for sale (both in-store and online).
What makes a great low carb keto tomato ketchup?
The quality of a low carb tomato ketchup varies greatly between brands. Some have a weird aftertaste, others are so thin in consistency that it's like water.
The perfect keto ketchup should try and meet the following 6 criteria:
Taste: Tangy and sweet
Smell: Strong tomato flavour with no chemical/artificial scent
Consistency: Thick but pourable. Definitely not watery
Aftertaste: No strange artificial, chemical, bitter aftertaste – common with some sweeteners
Carbs: Less than 6g of carbs per 100g. The serving size will be measured at 1 tbsp (15ml)
Price: Under £3 per bottle (around 300g)
I'll use these criteria to help determine the best low carb tomato ketchup that you can buy. Each ketchup will be scored on a scale of 1 to 6 (six being the best).
Make your own tomato ketchup
Of course, you could always make your own ketchup. It's a pretty simple to make and you can adjust to your taste. I've made Wholesome Yum's Tomato Ketchup before and that tastes great.
Best tomato ketchups compared
Heinz Tomato Ketchup No Added Sugar & Salt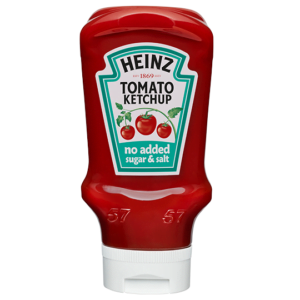 Size: 610g (other sizes available)
Available at: Asda, Amazon, Tesco, Ocado, Sainsbury's, Morrisons and other supermarkets
Nutrition per 100g:
Energy: 45kcal
Fat: 0.1g
Carbohydrate: 5.7g
Protein: 1.6g
Salt: 0.06g
Score: 5/6
Taste: Very sweet because of the sucralose, but still has a nice tangy tomato taste.
Smell: Some smell of tomato but not overpowering. No artificial smell.
Consistency: Slightly runnier than normal ketchup but not watery. The best of the batch.
Aftertaste: No strong aftertaste, maybe slightly bitter but not unpleasant.
Carbs: A tablespoon contains less than 1g of sugar. So excellent for the price and taste
Review
The best of the three by a wide margin. It's available in a lot of stores and is the cheapest by a wide margin. It's the closest to normal ketchup. However, that's not surprising, as it's made by Heinz themselves!
Result: Recommended!
Blend Bros Sugar Free Ketchup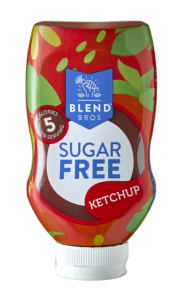 Size: 240g
Available at: Blend Bros
Nutrition per 100g:
Energy: 32kcal
Fat: <0.1g
Carbohydrate: 6.3g
Protein: 1.8g
Salt: 1.4g
Score: 2/6
Taste: Subtle, not an overwhelming flavour but wasn't unpleasant.
Smell: Didn't really smell of anything.
Consistency: Quite watery, by just slightly tipping the bottle you could see the contents move.
Aftertaste: Not the best, it has a slight chemical aftertaste.
Carbs: Less than 1g per tablespoon. However, found that I was using more to account for lack of taste.
Review
Lacking in flavour and consistency. I originally purchased it in Asda but it only seems to be available straight from the vendor's own website now. Annoyingly, as far as I can see they don't list the size of the bottle on their website. This could just be a simple mistake or done to obscure the fact that it is quite expensive at over 80p per 100g.
Result: Not recommended
GOT7 Sweet Tomato Classic Sauce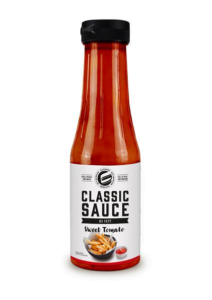 Size: 350ml
Available at: Gigas Nutrition
Nutrition per 100g:
Energy: 15kcal
Fat: 0g
Carbohydrate: 1.7g
Protein: 0.5g
Salt: 2.0g
Score: 4/6
Taste: Very sweet and tangy. It reminds me of the sauces you get at a kebab shop in the big red squeezy containers.
Smell: Pleasant and not overpowering. Slight artificial smell but still palatable.
Consistency: Not too watery but not a normal consistency for ketchup. Bit on the runnier side. You just have to be careful when squeezing the bottle else it all comes out.
Aftertaste: Has an overwhelming sweet taste. I was bit taken a back the first time I tried it. However, have now got use to it and quite like it.
Carbs: Lowest of the three at 0.3g per tablespoon.
Review
Made in Germany by GOT7 and seems to only be sold in German stores. I tend to buy in bulk when I order from Gigas Nutrition, as they ship to the UK. They have a wide variety of low carb sauces. Their Curry Ketchup is amazing! Sign-up to their newsletter for a discount code (around 10% off).
Result: Recommended (if you are buying multiple items)
Related – Check out our list of the best keto sauce and condiments for more saucy ideas!