Keto Roasted Radishes Recipe – Perfect potato substitute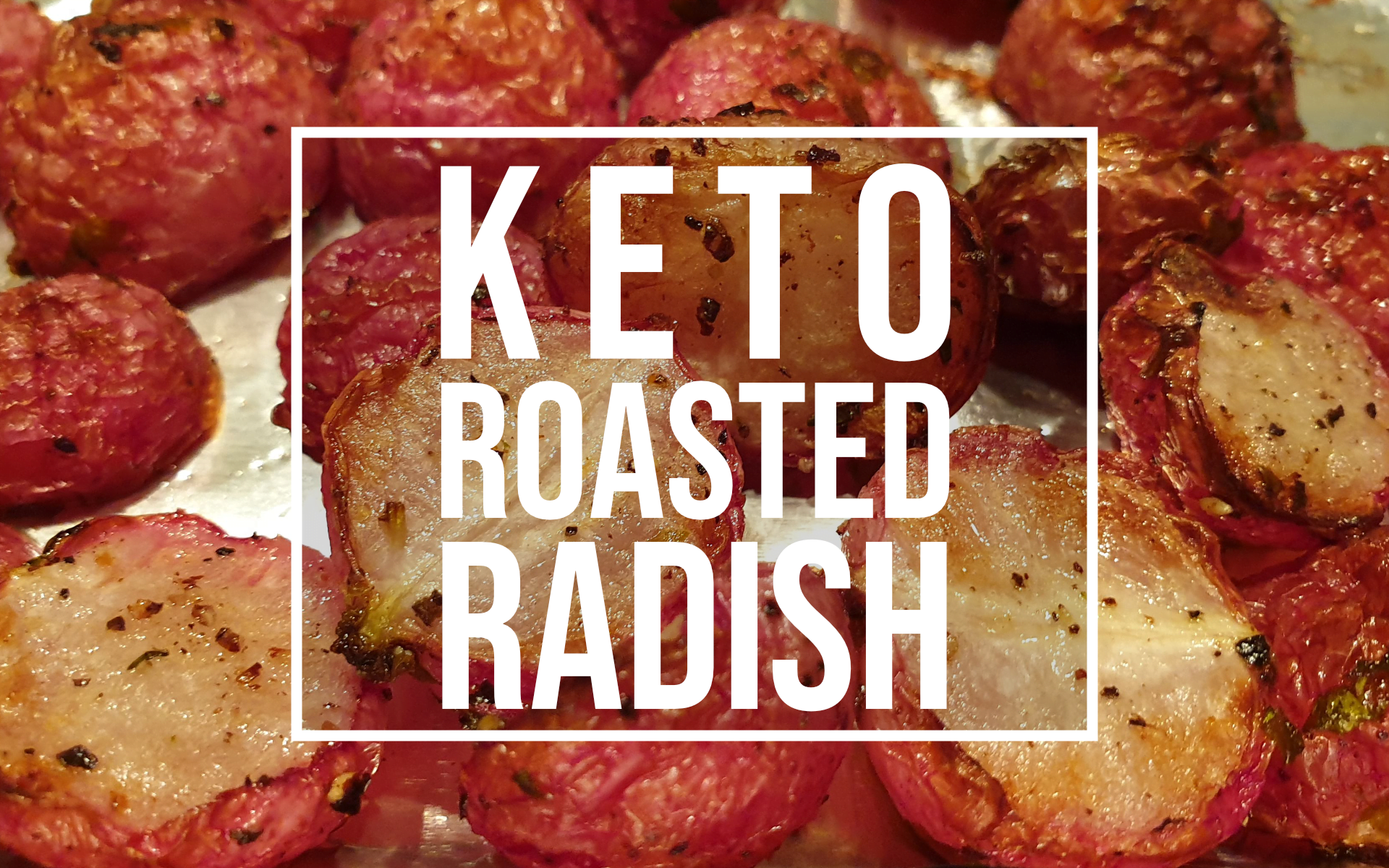 Who doesn't like some lovely crispy roast potatoes with their Sunday lunch? Well, if you're following a keto lifestyle then you'll know the pain of missing them. But, worry no more! Enter our keto roasted radishes recipe, the perfect roast potato substitute and best of all only 1.9g of carbs per 100g!
Are radishes keto?
Yes! Radishes are extremely low in carbs at around 1.9g per 100g, making them a perfect keto-friendly vegetable.
Nutrition per 100g – Calories: 14kcal, Fat: 0.2g, Carbs: 1.9g, Protein: 0.7g, Fibre: 0.9g
Related – Got an itching for some more radish recipes? Maybe you miss fries (chips) then be sure to check out our keto mooli fries recipe.
You can pick up radishes in pretty much all UK supermarkets and are normally around 50-75p per 200g. Personally, I find a typical serving of 200g per person is the perfect amount as a side dish.
Available at: Asda, Morrisons (Amazon), Sainsbury's, Tesco and more.
Additionally, they keep well in the fridge and you can usually ignore their best before date. I've eaten many that have gone way past that date and I'm not dead yet. Just give them a squeeze and if they're overly soft then they might need to be made into compost.
Ingredient list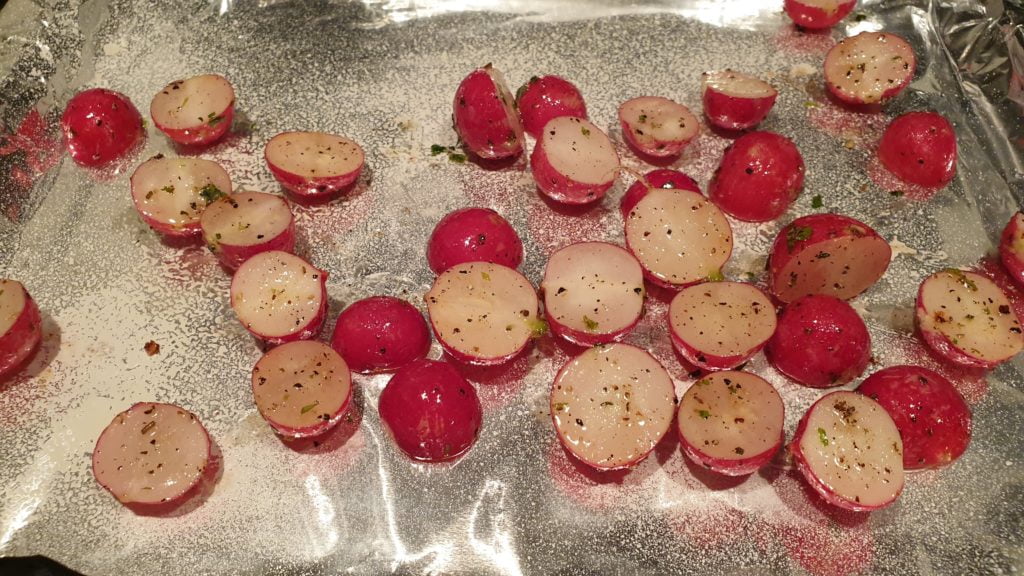 As for the other ingredients that you'll need to make the best keto roasted "potatoes" radishes recipe, you probably already have them at home!
Extra virgin olive oil – a good EVOO should be a staple in any kitchen, not just for us keto folk. Watch out for oil blends by checking the ingredient list, it should be oil made from 100% olives.
Thyme – fresh or dried, it doesn't really matter, just whatever you have to hand! Although, fresh is best and I thoroughly recommend you grow your own herbs.
Garlic & onion powder – optional, but a dash of both of these seasonings will elevate the flavour to a whole new tier.
Black pepper & salt – season everything, freshly ground black pepper is always best if you have it. For salt, pink Himalayan is good, but standard table salt will do the job.
Keto Roasted Radishes Recipe – Perfect potato substitute
Course: Dinner, Sides
Cuisine: British
Difficulty: Easy
Miss roast potatoes on keto? Well, no more, try our keto roasted radishes which are a perfect potato substitute for those Sunday roast dinners. Best of all, they're only 1.9g of carbs per 100g!
Ingredients
200g radishes

2 tbsp extra virgin olive oil

Handful of fresh thyme, finely chopped (dried is fine, around 2 tsp)

Dash of garlic and onion powder

Black pepper, to taste

Salt, to taste
Directions
Preheat oven to 200c (fan)
Trim the stalk off the radishes and chop them in half
Place radishes in a large mixing bowl and add all other ingredients
Shake and mix to ensure all radishes are coated with the oil & seasoning combo
Line a baking sheet with foil and evenly spread out radishes
Roast in the centre of the oven for around 40-50 minutes. Turn them over around halfway through and continue to cook, until golden and crispy.
Notes
Serving size – I'm greedy and like all 200g to myself. That's only around 3.8g of carbs, so a perfect side dish. If you're cooking for more people, then be sure to add extra radishes, they'll go quickly!
Nutrition Facts
1 servings per container
Serving Size200g
---
Calories274
Amount Per Serving% Daily Value *
Total Fat 27.82g

43

%
Amount Per Serving% Daily Value *
Total Carbohydrate 3.8g

2

%
Protein 1.4g

3

%
* The % Daily Value tells you how much a nutrient in a serving of food contributes to a daily diet. 2,000 calories a day is used for general nutrition advice.