Keto Jelly Bears (Babies) – Sugar free and low carb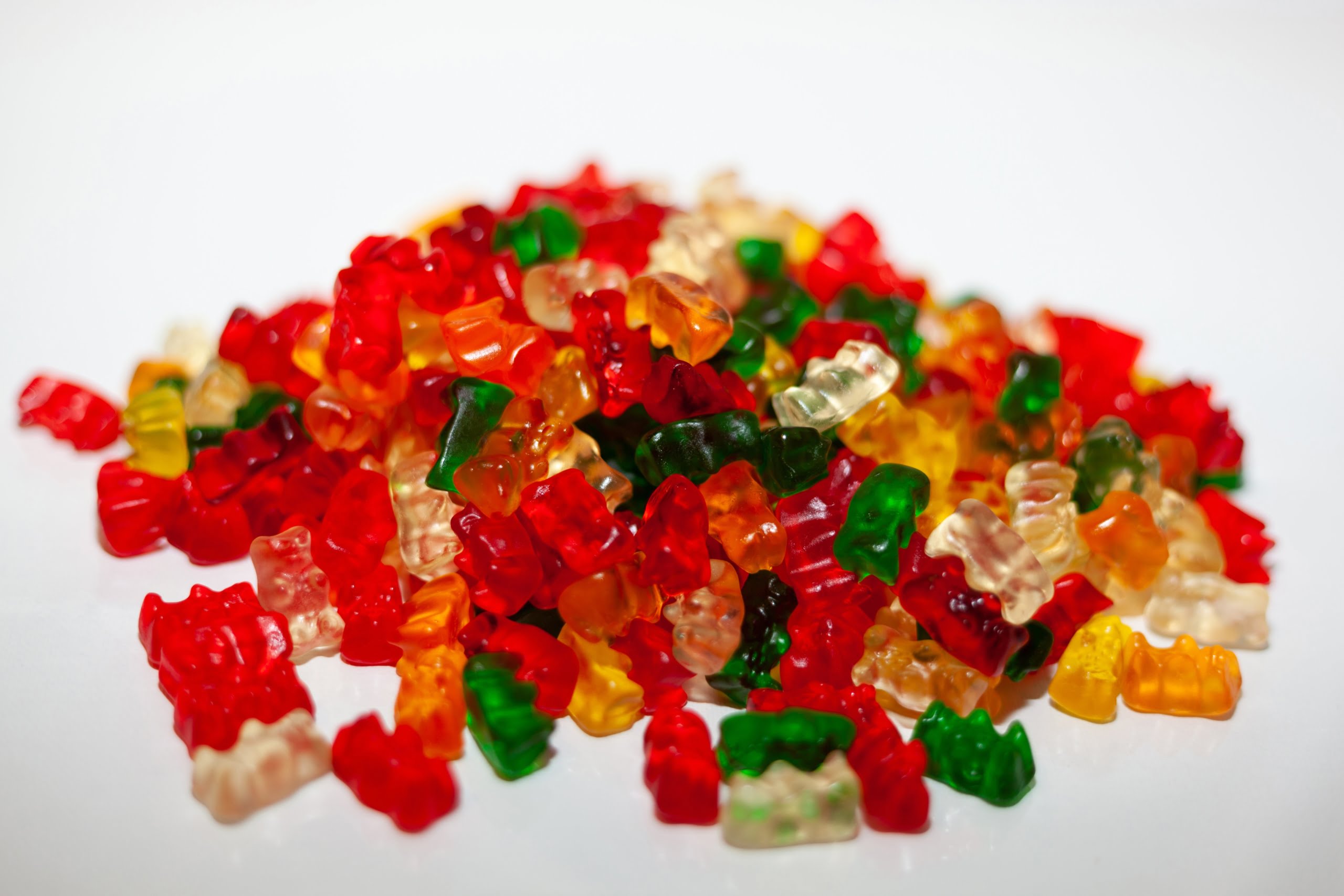 As a kid (and adult), I loved jelly babies. Small little sweets, that are pretty much just gelatine, sugar, colouring and flavourings. However, if you take a look at the nutrition information, they have a whopping 78g of carbs per 100g. No wonder they were addictive! Luckily, you can make your own keto jelly bears that are low carb and sugar free!
How to make keto jelly bears
Making jelly bears is very easy, all you need is three core ingredients and some moulds.
Just three ingredients
Powdered Jelly – you will need two packets of sugar free jelly powder (crystals). Check out my article on the best keto jelly you can buy. Any flavour will do, it's your choice.
Water – just plain old tap water will do. However, if you want to mix it up, you can add half hot water and half sparkling water (or diet lemonade) to give it some fizz.
Gelatine – two sachets of powdered gelatin. I use pork gelatin but any other low carb gelatine will do. Be careful with the vegan/vegetarian options are they can be high in carbs.
Picking the right moulds
For the moulds, you pick any design and shape you want. I tend to make way too much at a time, so I use a mixture of bear moulds and larger shapes that I normally use for keto chocolate.
Bear moulds
I picked up a set of bear moulds on Amazon a couple of years ago, and have used them every couple of weeks since. Amazingly, they also come with pipettes which makes filling the moulds so much easier. There's less spillage, so more bears!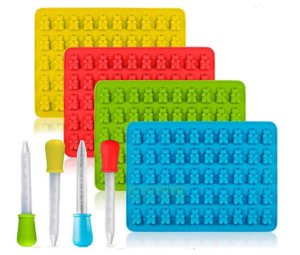 Each pack contains 4 trays, that have 50 bears each (200 in total). Plus, with silicon moulds, it's so much easier to remove the jelly once it's set. They also wash well, which makes the cleanup a breeze.
Shape moulds
If you have left over mixture and have run out of bear moulds to fill (like me). Then I recommend just putting the remaining liquid into any spare receptacle (like a bowl). However, if you want to make some bigger sweets that you can grab as a snack later. Then think about picking up some larger sweet moulds.
I make keto chocolate from time to time, so I have some moulds for that purpose. These work great for jelly too! Side note: you can also use them for fancy ice cubes as well.
Putting it all together
Now that you have everything you need. All that's left to do is to make them! For this recipe, I'm going to be using the equipment and ingredients shown in the picture below. Only items out of shot are water and a pan.
Keto Jelly Bears (Babies)
Course: Dessert, Snacks
Cuisine: British
Difficulty: Easy
Make keto jelly bears (babies) that are sugar free and low carb. They can be kept in the fridge for over week and be eaten for dessert or as a sweet snack.
Directions
Arrange moulds on baking tray. Ensure tray can fit on a shelf in your fridge.
Add water to a pan and bring to boil on stove.
Reduce heat to very low, and add jelly powder to pan. Whisk until fully incorporated.
Add gelatin powder, a little bit at a time. Whisking continuously, until fully dissolved.
Turn off heat and use droppers to fill your moulds. Try and ensure there are no air bubbles and don't overfill them.
Transfer baking tray to fridge and leave to set. This can take up to 8 hours, but best to leave overnight.
Notes
You don't have to heat the water on the stove, but I find the extra heat on low helps the gelatin to dissolve. You could just boil the water in a kettle and mix everything in a jug. Just be sure that there are no lumps.
Best to wash up your pan, whisk and pipettes as soon as you're finished. As once the gelatin sets, it can be a pain the clean!
Nutrition information
So we have 200 jelly bears to eat (plus whatever was left over)! How many calories and carbs is that? Let's do the maths.
For the jelly, I use Asda's No Added Sugar Raspberry Flavour Jelly (11.5g x 2) and Dr Oetker's Gelatine powder (12g x 2) for the gelatin.
Per jelly powder sachet – Energy: 52kcal, Fat: 2g, Carbohydrate: 2g, Fibre: 2.8g, Protein: 7.6g, Salt: 0.24g
Per gelatin powder sachet – Energy: 40.8kcal, Fat: 0g, Carbohydrate: 0g, Fibre: 0g, Protein: 9.96g, Salt: 0.16g
Total nutrition information for whole recipe
Energy: 185.6 kcal
Fat: 4g
Carbs: 4g
Fibre: 5.6g
Protein: 35.12g
Salt: 0.8g
Not bad, for the sake of serving size, let's say there is 4 servings. So only 46.4 calories and 1g of net carbs!